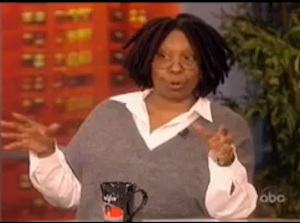 On The View Monday, the panelists discussed Gloria Cain's impassioned defense of her husband over his multiple alleged cases of sexual harassment and her statement that "he totally respects women." "Can I just point out how much Herman Cain looks like his wife?" Goldberg quipped to uproarious laughter from the audience. "That's all I could say, I thought she looked just like him! That's why the kids all look just like them!"
Sherri Shepherd opined that when you 'stick by your man' that's what you would say. "What is she supposed to say? He's filthy, she should sue him for everything he's got!?" Shepard exclaimed. "If she was planning on leaving him, that's what she would say."
"I'm not saying he did these allegations, but people who do those kind of things do act different when they're home with their wives," argued Joy Behar. "That's not a big shocker. how he acts in office is not the same way he acts at home."
"Even if he was guilty of this, she maybe could have had no idea," said co-host Elisabeth Hasselbeck.
"I guess he wouldn't try any of that with her because she would knock him out," Goldberg exclaimed.
The conversation drifted over to a New York Times op-ed defending dirty jokes in the office. NYU professor Katie Roiphe had argued that "perhaps we should be worrying about different forms of hostility in our workplace."
"The thing is, if we're making that okay in the workplace, if we make an exception, if it was not as bad, it's still bad. We know that — then does that trickle down into what's acceptable in school?" Hasselbeck questioned.
"Here's the thing, if you start saying these dirty jokes are okay for me, and these dirty jokes are not okay for me, then you can't say someone else's feeling of sexual harassment is invalid because if there's a man or a woman who is uncomfortable with dirty jokes and doesn't like to have them around them, either we can't do them and shouldn't do them, or we should," explained Goldberg.
Watch Whoopi's provocative observation below via ABC:

Have a tip we should know? tips@mediaite.com