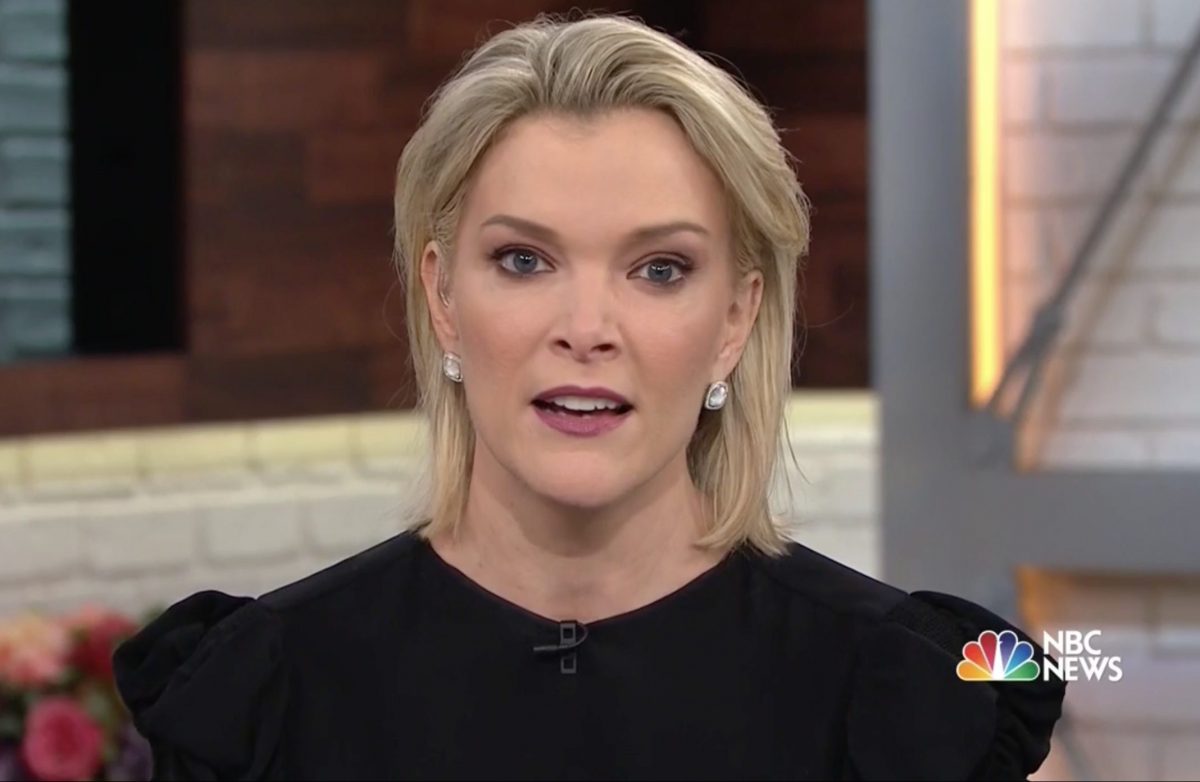 NBC News chief Andy Lack lit into one of his star anchors at a town hall meeting with the network's news division on Wednesday, Mediaite has learned.
A day after Megyn Kelly sparked controversy by defending the use of blackface in Halloween costumes before an all-white panel on her show, the head of a network that just last year hired her away from Fox News on a reported $69 million deal condemned the host.
"There is no other way to put this but I condemn those remarks, there is no place on our air or in this workplace for them," Lack told staff, according to a transcript obtained by Mediaite. "Very unfortunate."
Kelly issued an emotional apology for the racially insensitive comments on her NBC show Wednesday morning. Kelly's contrition came after her NBC colleagues devoted a remarkable amount of airtime to the controversy.
Lester Holt covered her comments on NBC Nightly News, a surprising move for a show that devoted no time to other NBC News scandals, including allegations the network spiked the Harvey Weinstein story, or MSNBC host Joy Reid's dubious claims her old blog was hacked and padded with offensive posts. Few other networks covered the topic, as CNN's Brian Stelter pointed out.
The Today show took on Kelly's gaffe Wednesday morning too, delivering a strong condemnation.
"The fact is, while she apologized to the staff, she owes a bigger apology to folks of color around the country because this is our history," Al Roker said. Craig Melvin called the comments "stupid" and "indefensible," and dismissed Kelly's apology as "silly" and "disingenuous."
Lack commended that coverage in his remarks at the town hall meeting.
"I think that Nightly covered the story well last night and appropriately so," he said. "I think this morning on the Today show, the team did an excellent job covering it properly. I thought Craig and Al brought a thoughtfulness and a context to it that was sorely missing and they really did this company and our audience a real public service. And that is the Today show and Nightly at their very best."
"As we go forward, my highest priority remains, and as we sort through this with Megyn, let there be no doubt that this is a workplace in which you need to be proud and in which we respect each other in all the ways we know is foundational to who we are," he concluded, before taking questions.
The question asked here is not whether Kelly's comments, which were both offensive and completely out of touch, are worthy of condemnation — they are. The question is why her network appears to have declared war on her, when it has gone into protective mode in response to controversies surrounding other staffers, like Reid or Tom Brokaw, the NBC veteran accused of sexual harassment.
On her show in early September, Kelly questioned NBC's handling of Ronan Farrow's reporting on Weinstein, and suggested the network employ an "outside investigator" to find out what happened. Later that month, anonymous NBC News executives told the Daily Mail they though Kelly was casting herself as a champion of #MeToo as "a failsafe plan to ensure she can't be fired from NBC News amid her show's tanking ratings," the tabloid wrote. Days later, an "NBC News insider" told Page Six Kelly was "milking the #MeToo movement."
"People are counting down the days until she's gone," the insider added.
Could NBC News's fanning of this controversy be the latest attempt to force Kelly out? We'll have to count down the days and see. Either way, the network and its president are showing no signs of providing the support they've shown other embattled hosts, and that certainly feels like an omen.
This is an opinion piece. The views expressed in this article are those of just the author.
Aidan McLaughlin - Editor in Chief