Why Isn't David Gregory Conducting Greenwald's Meet the Press Interview This Weekend?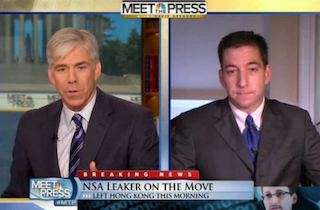 This Sunday, journalist Glenn Greenwald will return to Meet the Press for the first time since his contentious sit-down with host David Gregory last June. But it won't be Gregory interviewing Greenwald. Instead, NBC News' justice correspondent Pete Williams will ask the questions.
When Gregory interviewed Greenwald almost one year ago, it was shortly after the NSA revelations from Edward Snowden were starting to break. With the Justice Department indicating that it would prosecute Snowden for leaking secrets, Gregory asked Greenwald if he thought he might be criminally culpable for "aiding and abetting" the former NSA contractor.
"I think it's pretty extraordinary that anybody who would call themselves a journalist would publicly muse about whether or not other journalists should be charged with felonies," Greenwald shot back at the time. "The assumptions in your question, David, is completely without evidence, the idea I've aided and abetted him in any way." Later, he took to Twitter to accuse Gregory of trying to "criminalize journalism."
Today, during an appearance on HuffPost Live, Greenwald said it was "really disappointing" to find out that Gregory would not be conducting his Meet the Press interview this weekend. "I was really looking forward to part two of my interview by David Gregory," he said, adding he was eager to see how the host's approach to the story may or may not have changed over the last several months.
"I'm not exactly certain of the machinations inside NBC as to why that happened, but that was the choice they made," Greenwald said.
Watch video below, via HuffPost Live:
According to our sources within NBC, the decision to have Williams, not Gregory, interview Greenwald was not an intentional decision by the network but instead came down to simple scheduling issues.
Greenwald has been on a busy media tour this week to promote his new book, No Place to Hide: Edward Snowden, the NSA, and the U.S. Surveillance State
, and was only able to be in Washington, D.C., where Meet the Press is taped on Wednesday. Since the show did not want to tape Greenwald's interview that far in advance, they ended up having to do it in New York City on Friday morning, when it was not possible for Gregory to be out of D.C.
So, the job fell to Pete Williams, who, as the justice correspondent for the network, does have the appropriate background to cover the issues central to Greenwald's book, and, as you can see in the video below, was involved in Greenwald's last appearance on the show.
Assuming the decision was out of NBC's hands and Gregory gladly would have conducted the interview had he been able to, the lack of a Gregory vs. Greenwald rematch is a loss not only for viewers but also for Meet the Press. For a show that has had more than its share of ratings woes over the last year, the reuniting of these two would have been must-see viewing for the Sunday morning talk show crowd.
Watch Gregory's full interview with Greenwald below, via NBC:
Visit NBCNews.com for breaking news, world news, and news about the economy
[Photo via screengrab]
— —
>> Follow Matt Wilstein (@TheMattWilstein) on Twitter
Have a tip we should know? tips@mediaite.com