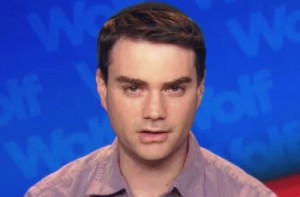 Young America's Foundation (YAF) announced that Ben Shapiro plans to appear at a DePaul University event Tuesday evening in defiance of the university's ban of the young conservative pundit.
DePaul banned Shapiro in August, claiming that, "Given the experiences and security concerns that some other schools have had with Ben Shapiro speaking on their campuses, DePaul cannot agree to allow him to speak on our campus at this time." Earlier in the year, liberal protesters at California State University, Los Angeles (CSULA) blockaded the doors and pulled fire alarms to disrupt Shapiro's speech.
On Friday, Shapiro and the DePaul chapter of YAF announced that they were ignoring the ban, and that Shapiro would appear alongside fellow YAF speaker Christina Hoff Sommers. "We have faith that in this divided time in our country and our community, DePaul can be a shining example for the nation that we all can come together, listen to, and debate each other. After all, that is what higher education—and we would hope DePaul—is all about," the students wrote.
But on Tuesday, YAF announced that the university was actively trying to stop the event from going forward. "Despite having no apparent problem hosting prominent leftists in the past, DePaul University is working to obstruct DePaul Young Americans for Freedom's scheduled lecture with Christina Hoff Sommers, after the chapter announced Ben Shapiro was slated to make a guest appearance.
Sommers tweeted that Shapiro was banned from even appearing at the event, but would show up anyway.
Alert!My co-speaker @benshapiro has been banned from our DePaul talk. Topic: Campus intolerance. (He's planning to speak anyway) #FreeDePaul

— Christina H. Sommers (@CHSommers) November 15, 2016
At other points this year, DePaul also banned alt-right icon Milo Yiannopolis from appearing on campus and blocked a conservative group from putting up posters they worried might offend Black Lives Matter proponents.
[Image via screengrab]
—
>>Follow Alex Griswold (@HashtagGriswold) on Twitter
Have a tip we should know? tips@mediaite.com