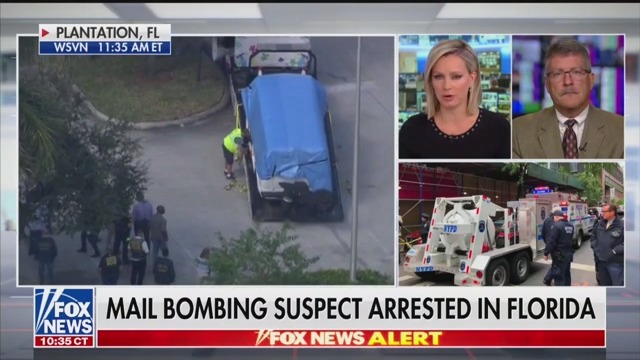 The man who allegedly sent pipe bombs to a dozen outspoken critics of President Donald Trump has been identified.
Law enforcement sources told NY1 that the man arrested is 56-year-old Cesar Sayoc Jr., of Aventura, Florida. Sayoc, according to records, is a registered Republican with a long criminal record, including a "threat to bomb" in 2002.
BREAKING: Senior law enforcement sources identify suspect in suspicious package investigation as Cesar Sayoc Jr., 56, of Aventura, Florida.

— Spectrum News NY1 (@NY1) October 26, 2018
NY1 also reported Sayoc's mugshot:
Photo of suspect Cesar Sayoc Jr. pic.twitter.com/dvjEApfhAL

— Spectrum News NY1 (@NY1) October 26, 2018
Police arrested Sayoc in Plantation, Florida Friday morning in connection with the series of packages sent to prominent Democrats, including Barack Obama, Hillary Clinton, George Soros, Robert De Niro, John Brennan, James Clapper and Cory Booker. The pipe bomb sent to Brennan was delivered to CNN's headquarters in the Time Warner building in Manhattan.
The new bombs discovered on Friday increased the total number of suspicious packages intercepted to 12.
The packages, manilla envelopes containing crude but functional pipe bombs, were sent from a postal facility in Opa-locka, Florida to the homes and offices of these figures. They were all intercepted by authorities, and did not detonate.
Police removed the van belonging to the suspect from a parking lot in Florida, which was covered in pro-Trump bumper stickers. Authorities covered the van in a tarp for transportation, but the bumper stickers could still be seen — including images of Trump, one sticker reading "CNN SUCKS" and another stating "DISHONEST MEDIA":
Thanks to the winds … we now have a CLEAR shot of the stickers of that van … pic.twitter.com/j0EWzgzQNo

— Jason K. Morrell (@CNNJason) October 26, 2018
Have a tip we should know? [email protected]
Aidan McLaughlin - Editor in Chief