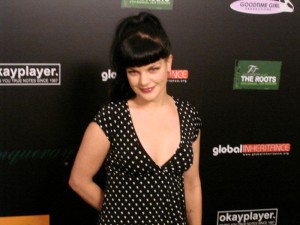 Pauley Perrette, who plays the beloved forensic scientist Abby Sciuto on NCIS, is "shaken and traumatized" after a homeless man jumped and repeatedly punched her outside her Hollywood home Thursday.
In a tweet, Perrette writes she was walking out to her guest house when a "VERY psychotic homeless" man assaulted her. He "repeatedly" told her he was going to kill her repeating his name —  "William" — several times.
"I was alone, terrified and trapped." Perrette writes. "There was an empty garage behind me and I knew if he got me in there I was dead. I knew I couldn't overcome him, I prayed my heart out then finally said, 'William is a beautiful name, I have a little nephew named William.'"
According to Perrette, the man started to punch her again, "and then said: 'Get the f*ck out of here.'" Perrette says she collapsed on the sidewalk, where a stranger walking his dog ignored her as the dog licked her face.
She texted her friend and her "church friend cop," and drew sketch for police. "They got him. Felony assault," Perrette writes, adding, "my life changed tonight."
"We need full mental health care. We need housing and help for the homeless. We need to support our cops. We need to not walk alone. I need to heal. I almost died tonight," Perrette concludes.
So, tonight was awful, life changing and I'm only grateful to be alive. It's here: pic.twitter.com/vXIT1pkVRc

— Pauley Perrette (@PauleyP) November 13, 2015
[Image via Wikimedia Commons]
—
>> Follow Elizabeth Preza on Twitter (@lizacisms)
Have a tip we should know? tips@mediaite.com