University Says It Was Only Offering a 'Stop White People' Course 'Ironically'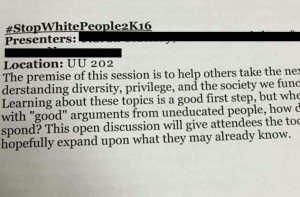 The State University of New York, Binghamton defended a course offered to resident assistants called "#StopWhitePeople2k16" Thursday, saying that it was only meant to be ironic.
Student-run paper The Binghamton Review set off a controversy Monday when it first reported on the course. "The premise of this session is to help others take the next step in understanding diversity, privilege, and the society we function within," the course description read. "Learning about these topics is a good first step, but when encountered with 'good' arguments from uneducated people, how do you respond?"
SUNY Binghamton officials defended the course after it went viral and sparked a backlash on social media. "The optional program was developed by the students themselves, supported by a young professional staff person," Vice President for Student Affairs Brian Rose said in a statement Thursday. "Its purpose, as conceived, was to facilitate a discussion among the RAs that would improve their ability to handle conflicts among residents around issues of diversity."
The title "Stop White People" was meant to be taken seriously, Rose said, saying it was "drawn from a familiar Twitter hashtag" and used "ironically."
In a separate statement to CNN however, SUNY Binghamton officials appeared to express regret about the name and said they were taking steps to make sure it never happened again. "This week, the office of student affairs spoke with organizers and attendees of the session, where they voiced their disappointment with the name chosen for the session and made clear that future training program publications will be reviewed by administrative staff before printing," a spokesman told them via email.
[Image via screengrab]
——
>>Follow Alex Griswold (@HashtagGriswold) on Twitter
Have a tip we should know? tips@mediaite.com