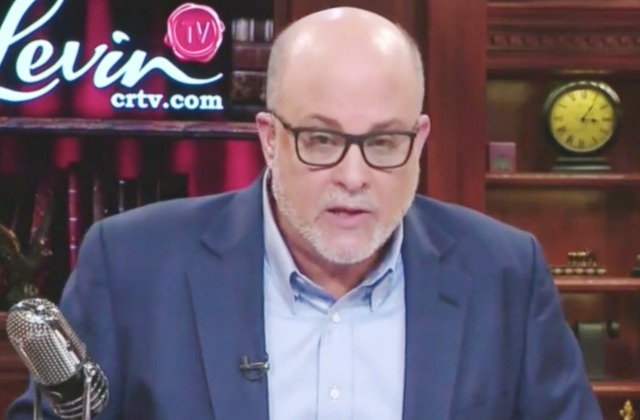 Nationally syndicated talk show host Mark Levin made the case in March that the Obama Administration had, in fact, ordered surveillance on the Trump campaign, specifically Chairman Paul Manafort.
"The evidence is overwhelming," he said in an epic, 12-minute segment on Fox News that we at Mediaite reported on at the time:
"They were so aggressive, they waited four or five months, they go back in October, weeks before the general election, they narrow their request, all of the sudden we have leaks coming out on [Michael] Flynn. Then we have a "Oh horrible" meeting that took place between [Attorney General Jeff] Sessions and so forth. And I'm telling you as a former chief of staff to a United States attorney general in the [Ronald] Regan administration, these are police state tactics."

The conservative pundit would then go on to defend POTUS, saying, "The evidence is overwhelming … Donald Trump is the victim. His campaign is the victim. His transition team is the victim. His surrogates are the victims."

To get to the bottom of the accusations, Levin suggested that the two FISA court warrant requests from the Obama administration need be released. He added, "There ought to be public hearings on this stuff, too."
Monday's report from CNN confirming that Manafort was under FISA surveillance not only vindicates Levin but also implicates the close-minded analysts and pundits who derided Trump for dangerously heeding the advice of "a talk show host" and over-looking the fact that Levin is a learned and experienced lawyer and Justice Department veteran with great sources in Washington.
The Washington Post intoned at the time that "Mark Levin is confused. Or he is trying to confuse you" suggesting that Levin is stupid or he's a con man. Nice. The New York Daily News put Levin into an Alex Jones Conspiracy category with this attempted take-down:
Mark Levin, the man behind President Trump's inflammatory tweets accusing Barack Obama of wiretapping was the first to float the conspiracy theory on his syndicated radio show last Thursday (in New York it airs 6 p.m. to 9 p.m. on 77 WABC).

His rant about Obama, culled from newspaper clippings, was then turned into a story on Breitbart and within hours Trump had unleashed a series of shocking tweets causing a rift between the White House and the FBI.
And pundit after analyst after anchor after "expert" on cable new would repeat the words over and over again… "Mark Levin… conservative radio host…  conspiracy theory…" and now, after CNN has confirmed what Levin laid out so many months ago, that narrative is replaced by silence.
I could ask the rhetorical "where does Mark Levin go to get his reputation back?" question but Levin's reputation is intact and his influence and audience grows as strong as ever.
The real question should be "where does the mainstream media go to turn in their credibility card?" After all, they dismissed Levin, despite his legal and government pedigree. They dismissed his well-reasoned and thorough explanations that he elaborated on in his nightly program and at the Conservative Review website.
The facts were there and Levin used the New York Times as one of his primary sources to make the case. But, he was ignored because the incurious and deceitful hacks at mainstream outlets had a larger agenda and refused to give credibility to someone in a medium they despise and dismiss as a conservative echo chamber (a ridiculous claim for anyone who's listened to just ten minutes of Levin in the Trump era).
Yes, the Manafort wiretap story is a validaation of Levin's reporting from months ago, but those of us who listen to his 6-9PM broadcast knew this already. The real story is how the media ignored the facts and evidence for so long and only now, thanks to anonymous leaks handed to a CNN reporter, will they grudgingly acknowledge that there may be something there. And they'll pretend they discovered the news when Levin reported it in March.
The real story is the mainstream media isn't searching for the truth, they are partisan hacks who only publish what serves the people sitting in the shadows who leak information to them to serve their own agenda. But, of course, those of us who listen to Levin already knew that too.
This is an opinion piece. The views expressed in this article are those of just the author.