Amy Schumer: If You Don't Vote, You May be Blamed if an 'Orange, Sexually-Assaulting Godzilla' Screws Everything Up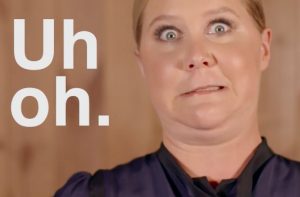 If you were planning to take a "let's not and say we did" approach to voting on November 8th, Amy Schumer wants to remind you that that isn't going to work. In a PSA for IWillVote.com, the comedian (and, apparently, hand model) attempts to appeal to your fear of harsh judgment from the people around you to get you out to the polls.
She reminds you that "whether you're a cool, good citizen, or a steamy dump," whether or not you vote is "totally, 100 percent your call."
You should know, however, that "people are going to know if you voted or not. Your voting history is public record. It doesn't say who you voted for, but it says if you voted at all. Anyone who knows you can just look that sh*t up."
"You got to actually go out and vote and not just pretend like you did at dinner parties," she continued. "Your decision to vote is obviously up to you, but judging you for that decision could be up to the Internet."
She just hopes that if you don't vote, "the people don't blame you if an orange, sexually-assaulting Godzilla who started a fake college is f*cking up the entire planet a year or so from now."
Let's be honest. We all know those people. Maybe you were even thinking about being one of those people who doesn't vote but says they do. Now you know you can't. Don't say Amy Schumer didn't warn you.
[image via screen grab]
Follow Dana Eisenberg on Twitter.
Have a tip we should know? tips@mediaite.com