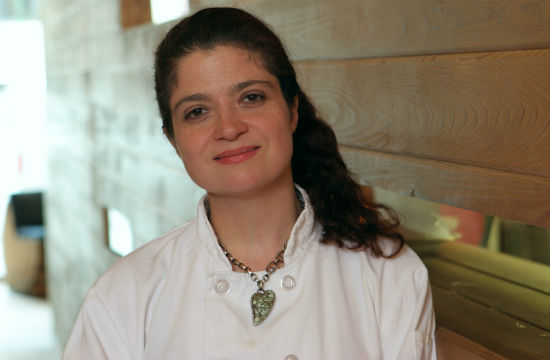 Today kicks off New York City's gift to beer budgets with champagne tastes: Summer Restaurant Week 2012. Or, in this year's 20th Anniversary case: Restaurant Month. Yes, for four whole glorious weeks starting today, July 16th, until August 10th, you, too, can grab three courses at some of NYC's hottest spots for just a $24.07 prix fixe for lunch, and $35 for dinner.
In a recent chat with Chopped judge and Butter chef/owner Alex Guarnaschelli, I waxed exuberant about how the closest I ever came to having an epicurean existential crisis was tasting the mussels with smoked trout at Butter during one Restaurant Week in college. I think I kept trying to order a beet salad for my appetizer course, but my waiter very insistently pushed the mussels. At the time, shellfish in general gave me consistency-related heebie jeebies, but there was no way they were going to be terrible — it was Butter! So, both my date and I accepted his recommendation and approximately four baskets of broth-soaked bread later, I was a moules advocate. Alex Guarnaschelli flipped me. Of course, no one was more excited about this than my mother, who had been trying to sell me on her famous Christmas Eve mussels my entire life. (I now beg her for them every time I visit home.)
And, in my effusive gratitude toward Alex for helping me see the light (I've since become a raw oyster shooter, even! I've come so far, you guys!), she revealed her passion for bringing haute cuisine to the masses.
"Yeah, it gives you a food moment that you may have never had," she said. "That's why things like Restaurant Week are really a priority for me to do, because they make it affordable for people."
Butter has been offering Restaurant Week menus for both its summer and winter incarnations for the past eight years, and, as Alex pointed out, it's anything but easy for the kitchen and wait staff. Imagine being in the weeds with significantly less tips for a week (or month) straight. Says Alex:
"Part of my commitment to Restaurant Week is because I don't think it's fair, for financial reasons, to end up excluding people from having a fun dining experience. I really don't. I feel passionately about that. I mean, we've done Restaurant Week for eight years with Butter, and I would never not do it. It's torture for the staff, it's such work and it's so hard. It's like bailing water out of a boat 24/7. But it gives us a chance to remind us about hospitality, and the idea that people come to a restaurant to eat. Like, that basic idea that's so easy to get away from is important to me. Restaurant Week is a nice kick-in-the-ass reminder of that, to me…I think it's great for students, too. It's a good student budget thing. You pick two or three or whatever, and you have a number of weeks to go, and one of those every week or two is something you can manage. "
So, save your dive bar beer pennies and expand your gourmand horizons. And maybe order something you thought you hated. You'd be surprised how properly elevated preparation can nudge any food into your squeamish heart.
Have a tip we should know? tips@mediaite.com