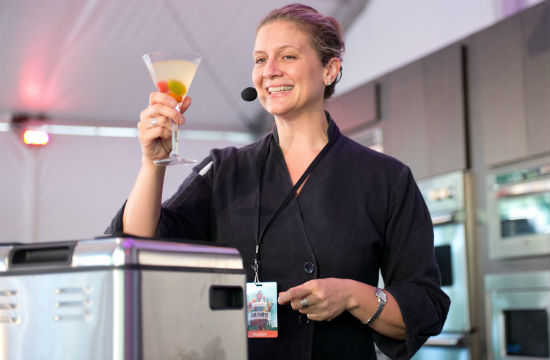 24-hour restaurant concepts aren't new to Chelsea, but Cafeteria has some competish on the horizon in the form of a Next Iron Chef: Redemption finalist entering the market. Amanda Freitag is currently working on her takeover/makeover of the Empire Diner space near the Highline, for a late-summer opening of a locavore diner concept. And really, what self-respecting New York City diner isn't open 24 hours?
Amanda told YumSugar of juggling Chopped filming (on which she's a judge) with the opening:
"Since we plan to be open 22 or 24 hours a day, I'll try to split my time between sleeping, filming, and cooking. We don't film Chopped every day. For the restaurant, developing it, I will need to be there breakfast, lunch, dinner, and late night at least at some point. I am locked in there the first six months. But I want to be. I want to be cooking. I want to be with my crew. I want to be creating and curating the vibe."
Sidebar: Speaking the words "I want to be curating the vibe" aloud is the cheffiest thing ever. But we respect it.
So if Freitag is conspicuously missing from a few episodes of Chopped, you know where you can find her in the wee hours of the morning.
You can check out the rest of Amanda's interview here.
Related:
Amanda Freitag To Open An NYC Resto Later This Summer
Lady Chef Stampede: The 1990s Was The Best Decade For Female Chefs
Beer Pong Will Give You Diseases, Play These Chef-Inspired Drinking Games Instead
[Yumsugar]
Have a tip we should know? tips@mediaite.com