There's a Donut Exhibit Opening In New York City, Which Delightfully Snubs the Cronut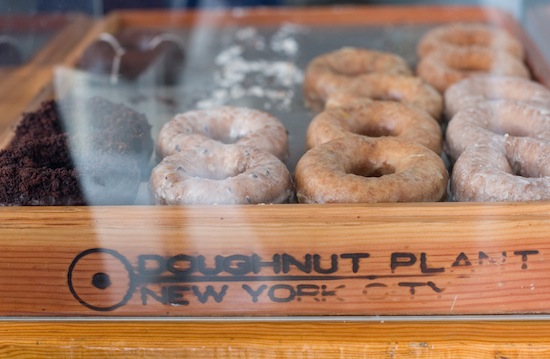 Ooooh, whatcha gonna say to that, Dominique Ansel? Whatever — he owes his moneymaker Cronut to the original donut makers.
In what's clearly the most genius food-related exhibit we could ever think of, the "Keep Your Eye Upon the Donut" opens December 7 at the City Reliquary Museum & Civic Organization. The exhibit explores the long history of the donut in Manhattan and Brooklyn, which, come to think of it, we didn't even realize was that long. From City Reliquary:
The city's donut shop history starts with Mrs. Anna Joralemon's 1673 donut shop on Broadway near Maiden Lane. Significant moments that will be highlighted include: the donuts served to immigrants arriving at Elllis Island, the Salvation Army's Doughnut Hut in Union Square, the founding of the Doughnut Corporation of America, and the first donut shop chain, Mayflower Doughnuts, which had its flagship shop in Times Square.

The nine present day donut shops highlighted are: Peter Pan Donut & Pastry Shop, The Doughnut Plant, Mike's Donuts & Coffee, The Donut Pub, Doughnuttery, Dun-Well Doughnuts, Shaikh's Donuts, Dough, and Carpe Donut NYC. Photographs and histories of each shop will be on view alongside items from these shops.
We have to admit, that lineup of donuts is downright stellar. (DOUGH WE LOVE YOU!) And no, no Ansel-trademarked Cronuts included in the exhibit. But we'd have to wonder how the Cronut has changed the Donut, no? Chicken or the egg? No wait, it's definitely the donut that came first.
The exhibit is organized by Julie Thomson, a donut blogger and former Brooklyn resident. (We'd like to know how to get that job, please.) You can find more on the City Reliquary website — oh, and the exhibit is free, so buy a donut for yourselves and give up the extra $3 to the museum, alright?
RELATED:
Waiting In Line For Cronuts, As Told By A 10-Year-Old Boy
Donut Showdown Is A Real TV Show That's Jumping Over A Donut Shark
Here Are Those 'Celebrity Cronuts' You Never Asked For
Have a tip we should know? tips@mediaite.com