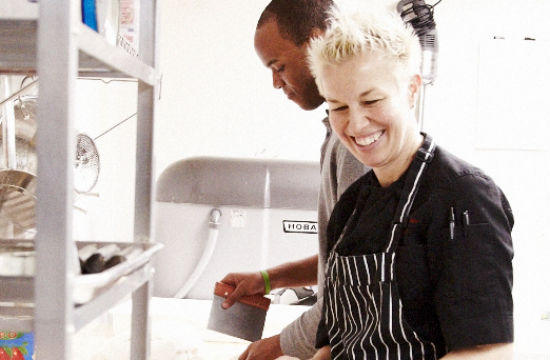 In a brief chat we managed with Elizabeth Falkner at the 2013 James Beard Awards, right after the news was announced that she was leaving her Neapolitan joint in Brooklyn just seven months after it opened, she dished that she was looking for "the right combination and the right restaurant," which smacked of creative differences at Krescendo.
Over the weekend, she confirmed to Grub Street, saying, "I left because I had differences, which will become much clearer when I get to Corvo Bianco. This is not just pizza and pasta: I am excited to cook a bunch of food. It's still coastal Italian, but a bigger restaurant and a bigger menu."
Yes, impressively enough, Falkner has landed on her feet less than a month after her oust, and sidled into the head chef position at the Upper West Side's Corvo Bianco, after its original chef Andrea Cobbe backed out citing a family emergency.
The new restaurant is slated to open in July, but in the meantime, you can check out a sneak peek of the food at the New Taste of the Upper West Side, where Falkner will be demoing a dish off the menu.
Fun fact: you can enter to win tickets to the New Taste through us right here!
Fingers crossed that the celeb chef spotting is just as good at Falkner's new spot.
Related: Elizabeth Falkner Leaves Brooklyn Pizzeria Krescendo
'This Is Awkward' And More Celebrity Chef-isms From The James Beard Red Carpet
GIVEAWAY: Tickets To Meet (And Eat With!) Adam Richman And 40 Of NYC's Best Chefs
Have a tip we should know? tips@mediaite.com