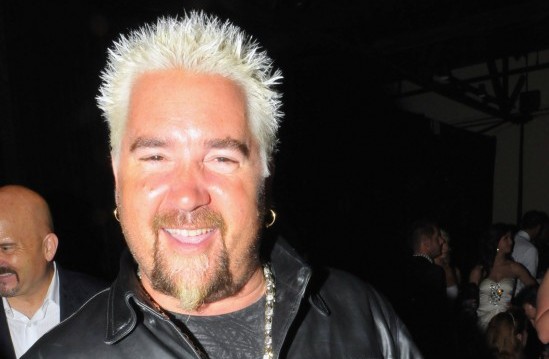 When Guy Fieri eats at your restaurant, so too will his viewers.
The New York Post checked in with some local New York City restaurants featured on Fieri's Food Network show Diners, Drive-Ins and Dives, and discovered a phenomenon that one restaurant owner nicknamed "the roller coaster effect." Every time the channel re-runs a segment where Fieri shows off all this delicious foooooood at these super rad restaurants, new customers suddenly surge through the doors for at least three weeks.  Eventually, the traffic settles down and it's back to regular clientele…until two months later, when the entire thing happens again.
Though the Fieri Bump is known nationwide, it normally means increased traffic overall for most restaurants. However, New York is different, insists the Post, because they have one thing that the rest of the country doesn't have: tourists. Tourists everywhere. Especially tourists on weekends, which is when restaurants like The Redhead and Mama's Food Shop see an uptick in customers.
"The energy in the room changes dramatically every time our segment on Guy's show airs," said The Redhead's chef/owner Meg Grace to the NYP, which probably means that out-of-towners crowd the normal hipsters out of the popular East Village gastropub in the aftermath of a "Triple D" rerun.
Citizens of Fieri Nation also tend to order exactly what their icon ordered, which is why they get sad whenever Jeremiah Clancy of Mama's informs them that peaches are out of season and thus he's out of peach cobbler.
No news for what the Fieri Effect may do for a Middle Eastern joint in Midtown called Gazala's Place that will soon be featured on his show, since, the Post notes, it's also conveniently close to the location for Guy Fieri's new Times Square restaurant.
Have a tip we should know? tips@mediaite.com