How a Professional "Celebrity" Chef Achieves Food Fighters-Level Fame: A Timeline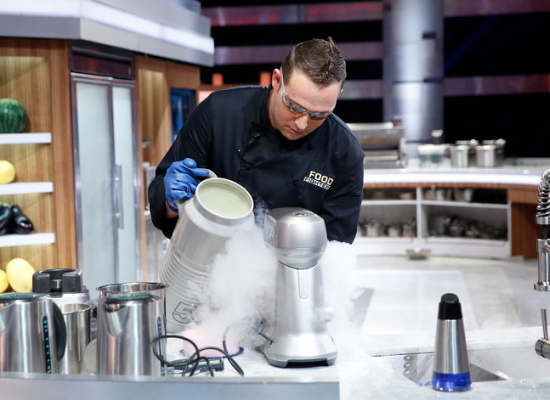 On last night's episode of Food Fighters, NBC's Walmart-sponsored summertime slot-filler, 14 year-old Troy Glass, an amateur MMA fighter/home cook, competed for $100,000 against five professional chefs possessing increasing levels of talent and fame, from Santa Ana neighborhood food truck owner Hop Phan to boldface man-child who sells meatballs on QVC, Rocco DiSpirito. In between them, Glass competed against three chefs you may or may not recognize from a thing — Chef Lovely, who's a "culinary specialist" for Bloomingdale's, "Culinary Bad Boy" Chris Nirschel who lost Season 7 of Food Network Star, and Keriann Van Raesfeld who lost Season 12 of Top Chef but who otherwise claims to have won competitions all over the world.
On last night's show, Glass ultimately won $20,000 which he hoped to put toward tuition to CIA, but at the end of the show he was awarded a full scholarship, which gives him the chance to turn his life around, so he won't have to grow up hustling as hard as the "celebrity chefs" he competed against, desperate to maintain that middle ground of fame. If you ever wondered how they do it, we broke down the career of last night's biggest loser, chef Chris Nirschel.
June 11, 2011: A Jersey Journal article describes Chris Nirschel, an FCI grad and Season 7 competitor on Food Network Star as a Hoboken chef turned savior of Little Italy, taking a job as executive chef of Little Italy restaurant Caffe Napoli. He's partying at a Hamptons magazine party at STK with Heidi Klum, and developing a tee shirt line with a Hoboken boutique. Meanwhile, Giada di Laurentis called his cooking "disgusting."
October 15, 2011: Nirschel is hosting a charity dinner at Copia in Midtown, cooking alongside fellow reality show stars like Ice-T and Coco, DMX, and the stars of VH1's Mob Wives. He's no longer at Caffe Napoli but now describes himself as hailing from Little Italy; tickets to the dinner are available via Groupon.
March 21, 2012: Per Fox News, Nirschel is now dating Jersey Shore castoff Angelina Pivarnick and their relationship is such a wreck they're now starring alongside DMX on VH1's Couples Therapy.
April 22, 2012: Nirschel competes on an episode of Chopped dedicated to former Food Network Star competitors.
September 12, 2012: Nirschel is now the executive chef at Celsius at Bryant Park.
May 22, 2013: Nirschel is now the executive chef at EVR Gastro-Lounge.
August 7, 2013: Nirschel replaces Madison Cowan, a former Iron Chef and Chopped winner, as executive chef of Slide, a milkshakes-and-sliders joint, in the West Village. It will close at the end of the year.
December 10, 2013: Nirschel is signing autographs at a Scarsdale liquor store.
May 27, 2014: Nirschel is a "Culinary Coach" on MTV's House of Food. According to the New York Daily News, he's previously cooked at Bryant Park Grill and was the former personal chef for Diddy.
December 19, 2014: A more mature Nirschel describes himself as having grown up in Connecticut and says he's put his reality show persona behind him. He's cooking at Taphaus, a waterfront gastropub in Jersey City with plans to expand to Brooklyn.
February 21, 2015: Nirschel is no longer at Taphaus. He's cooking at the South Beach Wine & Food Festival. According to his bio, he was only ever a consultant at Slide, and his hometown is Boston, where he has "a standing relationship" with the local Whole Foods.
June 4, 2015: Nirschel is now competing at Tasting Table's Lobster Rumble as the chef of North River Lobster Co, a floating New York City lobster shack.
July 17, 2015: Competing on NBC's Food Fighters, Nirschel loses 5-0 to a 14 year old boy.
Have a tip we should know? tips@mediaite.com