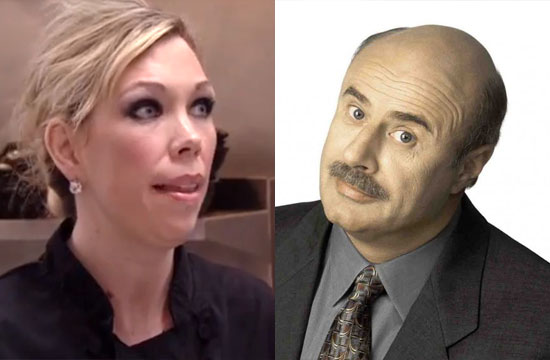 Every time we hear something new involving Amy and Samy Bouzaglo, the lovely Arizona couple made infamous by an appearance on Gordon Ramsay's Kitchen Nightmares, we play "The Circle of Life" from The Lion King and tick off items on our Checklist Of Famewhoring. Now that RadarOnline.com has reported that the Bouzaglos have just taped an appearance on Dr. Phil, we're on a flurry of box-ticking: the shiny-headed pathos of Dr. Phil McGraw? Check. The delusion that they, the humble Bouzaglos, "re-invented reality TV"? Check. And their belief that this one reality show appearance will salvage their image?
"The Bouzaglos are desperate to 'clear their name' and Dr. Phil's producers have been hounding them for quite some time to appear," a source close to the show told Radar.

"They are claiming they are victims, that they are good people, and that they are the polar opposites of what was shown on TV."
Check, check and check. 
Now, keep in mind that this is a preliminary report from a gossip site, and so far there's no set date. But seriously, who would be surprised if this was true? No one, that's who.
Now watch this video and imagine that Rafiki is Dr. Phil, and that Simba is the Bouzaglos, because this is now stuck in our heads.
RELATED:
Amy's Baking Company is 'Back,' We Ask WHY
WATCH: Amy Bouzaglo Accuses Waitress Of Lying, Brings Video That Proves Otherwise
Warm Up Your Surprised Face: Amy's Baking Company Reportedly In Talks For Reality TV Show
Have a tip we should know? [email protected]