Reports Link New Food Network Star Lenny McNab To Some, Uh, Sordid Online History (with NSFW Updates)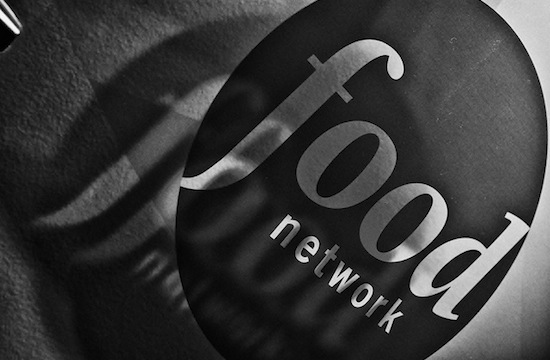 Much of which we won't republish because the alleged stuff is downright nasty.
The blogs are a'gossiping about the online history of the recent Food Network Star winner Lenny McNab with alleged comments, videos, and photos that are, to put it nicely, sordid. Food Network Gossip gives the full rundown of the junk, which the site also notes has mostly been scrubbed from the Internet. (We can't imagine why.) Most notably are comments directed at another Food Network host, Ree Drummond, which suggest he would, uh, do some very inappropriate things to her. (We are not going to get into all of that.)
The tamest (ish) posts, from Food Network Gossip:
Lenny posts as ChuckWagonCook on the Ron and Fez forums, and when he announced he was going to be on Food Network Star, he posted a teaser saying:

Without everyone out here…I would never of been out……………here?

As you know (or might not)…I was on Guy's Grocery Games this last year. Episode entitled "The Ol Switch-a-Roo" I ended up losing due to my undercooked lamb.

But that's not the point. Albeit it is a good point. At least for this thread….but still not the point.

The point I am getting at is this.

Years ago when I was phoning in to the Ron and Fez Show I knew that i had a certain "sticky" factor. (yes…like cum)…and I knew that stardom was in my future. I'm not trying to be arrogant or pompous…I just felt it…..just felt it.
Should the rumors prove true, it's safe to say that a certain Food Network star has already set the standard for such derogatory behavior — in that she got fired. We will watch and see if this is what happens (and have reached out to the Food Network for comment).
In the meanwhile, let's get to know our new Food Network Star from the official press release, shall we?
The tenth season of long-running hit series Food Network Star concluded Sunday night with a viewer vote naming Lenny McNab of De Beque, Colorado the winner of the grand prize: his own show on Food Network. Lenny's unique gourmet cowboy take on classic American dishes, down-home charm and quirky sense of humor distinguished him with the judges and audience over the 11-episode season, which kicked off on June 1st. Close to 40 million people tuned in for Food Network Star's tenth outing, with culinary icons Alton Brown, Giada De Laurentiis and Bobby Flay leading the charge to discover the next promising face in food television.
Where's Justin Warner when you need him?
UPDATE: Because no Food Network crisis is complete without the commentary from Allen Salkin, author of the From Scratch: The Uncensored History of the Food Network, we reached out to him with his thoughts on the controversy. "After Robert Irvine's resume mess, after the Calorie Commando [Juan-Carlos Cruz] put out a hit on his wife [and is currently in jail] and especially after the grand pooba of all messes, Paula Deen's N-word problem, you'd think Food Network brass would hire a private investigator," Salkin told us in an email. "But the CEO of network owner Scripps Interactive, Kenneth Lowe, seems to be too busy touting the network's quarterly profits to bother himself with these public relations torpedoes that keep streaming in.
'We set trends,' Lowe declared in a conference call last week. What trends, Ken? Lack of proper oversight over a public company?"
We're still waiting on comment from the Food Network.
Update #2: Our tipster sent us screenshots of some of his NSFW postings; the first screenshot we sourced text from Food Network Gossip, up above. The second references Drummond and uh, yeah. From our tipster:
Note that he is posting as a user named "Chuckwagon," [Editor's note: it's actually "chuckwagoncook," but we'll get to that] but it is obviously him since he has posted under that name for years and the other posters know him. So I doubt he can get away with saying it was an impostor especially when he was hinting around at being a contestant on Food Network Star several months ago when no one knew about it. Also, on one of the screenshots the offensive language was blacked out but can be easily highlighted on a computer screen to be more visible.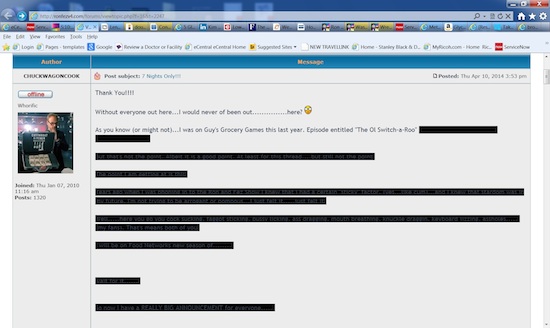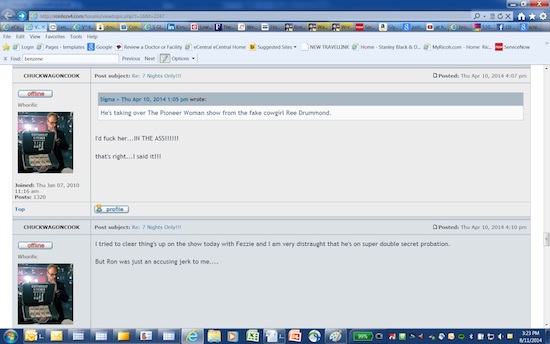 McNab does have a webpage on his website entitled "The Chuck Wagon Cook," which sources videos from his same-titled Youtube channel. The last post on the page, from October 2013, references his time on the Guy Grocery Games episode.
Still waiting for comment from the Food Network.
RELATED: Allen Salkin on FN's Culture Crisis: 'The Network Itself Doesn't Know What A Food Network Star Is Anymore'
Have a tip we should know? tips@mediaite.com