Tokyo's Famed Tsukiji Market To Close, Reopen In Much Larger Building By 2014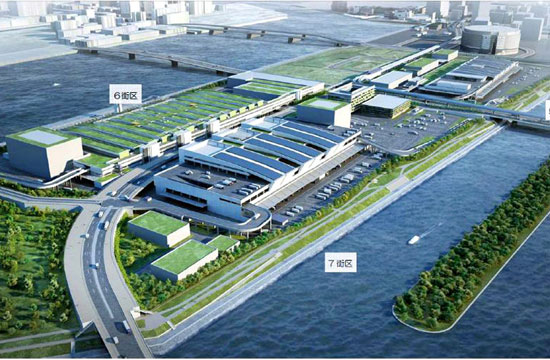 Everyone, let us quietly mourn the temporary closure of Tokyo's famed Tsukiji Market, which announced today that they would shut down the biggest fish market in the world for a full year.
The home of some of the finest fishmongers in the world (as well as the culinary version of Disneyland for chefs and food lovers everywhere), the Tsukiji Market, run down and decrepit after 78 years of near-continuous operation, plans to reopen by 2014 in a a shiny, new, 4 million square foot building that's 40% larger than the current market and 100% more built on land contaminated with gas runoff. Wait, what?
"The Tokyo government is currently working to neutralize toxic substances in the soil deriving from a former gas factory," reports the Asahi Shimbun. "Construction will begin as soon as the work is complete–likely by the end of this fiscal year." Oh, good. We know that Japanese people like crazy foods, but even they might not like petroleum-cured hamachi. (The new market can be seen above.)
In addition, demolishing the current market, located on the waterfront next to the fashionable Ginza district, frees up valuable real estate which Tokyo mayor Shintaro Ishihara wants to develop into higher-rent, less fishy properties.
This is a sad day for historians as well as hardcore sushi lovers, familiar with the fish market through movies like Jiro Dreams of Sushi and television shows likeThe Anthony Bourdain Show That Ran On the Food Network. Established after the Tokyo earthquake of 1923 destroyed the 20 markets throughout the city, Tsukiji was the first central market built in Japan and hosts not only fish markets, but also produce and meat vendors, restaurants, and retail stores. The market once resorted to banning tourists altogether, but recently opened its Outer Market to visitors, while keeping the inner wholesalers' market limited to professionals.
Chris Cosentino tweeted that he was glad to have visited, but here's a video of the fish market's famous auctioning process:
[Asahi Shimbun via Grub Street]
Have a tip we should know? tips@mediaite.com