Uh, So Top Chef's Stefan Richter Is Going To Be In A Sylvester Stallone Movie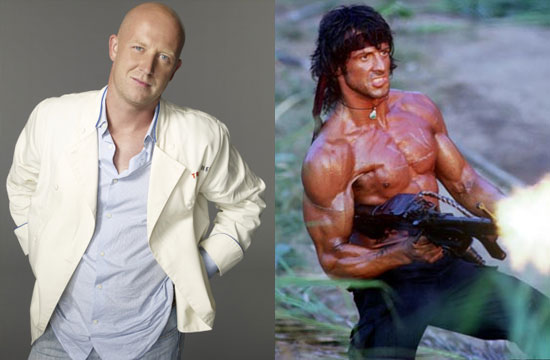 Of all the things we expected two-time Top Chef alum Stefan Richter to do in an article about him shilling for frozen fish filet company Sea Cuisine, we didn't expect him to drop the news that he'd be appearing in a Sylvester Stallone movie.
Okay, we expected that he'd flirt with the reporter from the Denver Post, show off his chef skills with maybe a bit too much panache, and humblebrag like whoa ("I drive a Porsche, why would I sell Scions?"). But apparently, Richter's summer plans include the following: "I am filming a show but I can't talk about it yet. I'll be in a Sylvester Stallone movie ("Reach Me") in August, and I'm going to my summer house in Finland to fish for six weeks."
We don't care too much about the show (he's already a reality TV star in his native Finland). What we care about is that Sylvester Stallone thing.
Sadly, according to IMDB.com, Stefan will not play a perfectly cast European villain in the next Expendables film. Truth be told, the following synopsis for Reach Me makes us feel adjectives like "heartfelt" and "sappy" and "can't you just punch someone already, Sly?":
A drama centered on a group of people who all have a connection to a self-help book authored by a reclusive former football coach.
WHERE IS THE PUNCHING?! Why are Terry Crews and Ryan Kwanten in this movie if they don't get to use their beautiful muscles? Can muscles write a self-help book?! And Kyra Sedgwick! Kevin Connolly! Nelly! Seriously, is this movie basically just "The Expendables go on a juice cleanse and build a barn in Vermont"? Because that's the only way we can see Stefan Richter making any sense in it.
We hope, just for the sake of everyone involved, Stefan gets a flamethrower and machine gun at some point, because that's the only way the entire cast will maintain their dignity.
RELATED POSTS:
Robert Downey Jr. and Bradley Cooper Both Filming Chef Movies
Is Gordon Ramsay Teaching Bradley Cooper To Cook For His Upcoming Film?
Follow Tina Nguyen on Twitter (@Tina_Nguyen)
Have a tip we should know? tips@mediaite.com