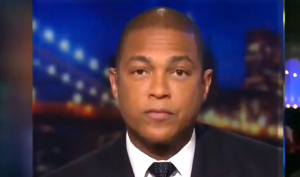 A new online petition calling for CNN anchor Don Lemon to be fired has reached over 32,000 signatures in just three days.
Jamell Henderson, who calls himself a "man of God" and a "man of the people" on Twitter, created the Change.org petition on Tuesday, Oct. 27. He wrote that Lemon "has consistently antagonized and defamed the characteristics of African-Americans on the national scale in his mass communications" instead of "[stating] the obvious: the challenges that face African-Americans are real and that solutions need to be found."
He cited numerous examples of Lemon's failing the African-American community at large, including his reporting on Trayvon Martin, his controversial segment on the n-word, and his recent comments on the infamous desk flip video.
"Lemon has repeatedly failed to fulfill his responsibility to remain objective and unbiased in his work," said Henderson. "As a news anchor, Mr. Lemon's job is to present the facts to the public, but time and time again, he has presented his opinion as fact — even when that opinion is contradicted by reality and common sense. That's unacceptable for a journalist."
In short, the Brooklyn College alum wants CNN to fire Lemon because the African-American community has "no confidence in Mr. Lemon's ability" to simply "call the news" and "not judge, defame or antagonize" the subjects he reports on.
The petition, which is actually the second of its kind to be created on Change.org in the past year, has over 32,000 signatures. The current goal is 35,000.
[h/t Death and Taxes]
[Image via screengrab]
— —
>> Follow Andrew Husband (@AndrewHusband) on Twitter
Have a tip we should know? tips@mediaite.com