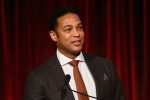 Don Lemon hosts "CNN Tonight" and is an award-winning journalist. He studied broadcast journalism at Brooklyn College and attended Louisiana State University. He wrote a memoir called "Transparent" in which he came out as gay and discussed sexual abuse as a child.
Don Lemon Q&A
How long has Don Lemon been on CNN?
How old is Don Lemon?
Born on March 1, 1966, Don Lemon is currently 54 years old.
Who is Don Lemon married to?
Currently, Lemon is engaged to Tim Malone, which he announced in April of 2019.
Don Lemon Noteworthy Stories
October 24, 2017
Don Lemon reads a letter he'd written to President Donald Trump and then broke down in tears overcome by the emotional power of his own words.