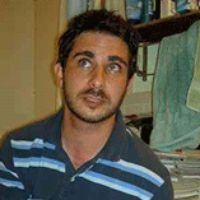 A.J. Daulerio is the editor of Deadspin.com, pretty much the top sports blog around and so enjoyably written that even non-sports people are fans, perhaps because of headlines like this: Mets Third Base Coach Does Not Like My Pants And Will Not Eat My Poop Sandwich (UPDATE). (It 's the helpful updates that make the difference.) If you are pooh-poohing that poop, don't be fooled: Daulerio just broke the story about  Rangers outfielder Josh Hamilton's sobriety lapse,  and, after taking the reins from bestie Will Leitch just over a year ago, has captained Deadspin to over 1.7 million unique visitors per month. Fans of his early work at The Black Table, the sharp, funny website he co-founded that showcased early work from a veritable who's-who of online talents, will recall his "Rock and a Hard Place" interviews with media figures including Seth Mnookin, Jon Friedman, Tom Scocca and Jayson Blair (they are worth a browse, if your heart/stomach can take it). Sports aside, Daulerio must be doing something right over there, because when we looked at the most-searched people in the Power Grid in our first month, he was frigging number TWO. (Ahead of Paul Krugman, Malcolm Gladwell, Erin Andrews (!) and Leitch, Deadspin Editor Emeritus at #4. Number one was Bill Simmons…with a down arrow. Incoming!) Upshot: Deadspin – and Daulerio – clearly have some loyal fans. Speaking of which, I must now disclose that I am one: Not only did The Blacktable first publish my online scribblings, but it was on the recommendation of Daulerio that I got my first gig writing about media at FishbowlNY. That won't make me care about football anymore, but it certainly makes me happy to present him to you now as the lastest to submit to our 5QQ – Five Quick Questions.
1. How do you get your first news of the day?
My inbox. Then I'll hit ESPN, SI, NYT, Philly.com, Gawker and The Awl. Then I'll scan Mediaite while I obsessively insert my name into the Power Grid search window.
2. Either, Or (you gotta pick one!):
Buzz Bissinger or Bob Costas?
Bissinger. Because he's taller.
Bull Durham or Field of Dreams?
Field of Dreams. Because it has the best choking-on-a-hot dog scene ever.
Ice Dancing or Curling?
Self-immolation.

3. What's the biggest story the media has missed this year? (Or last week):
How the people leaking the names of the players on this mysterious steroid list are more morally bankrupt and breaking more laws than the players they've illegally outed.
4. Obligatory Twitter Question: Describe yourself in 140 characters or less (hash tag optional!):
Selectively aloof dago mustache bon vivant who can't have nice things. #worldfuckingchampions
5. Are you nervous or excited about the future of Journalism? Why?
Excited. I gleefully await the death of the inverted pyramid. We're at the forefront of the Too Much Information era and it'll make everyone more honest.
Read more by/about Daulerio at Deadspin here, and wantonly search him in the Power Grid here.

Have a tip we should know? tips@mediaite.com