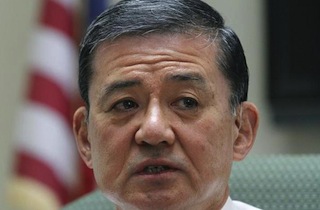 As the so-called VA scandal metastasizes, more lawmakers have started to call for Veterans Affairs Secretary General Eric Shinseki to resign — a list that now includes multiple Democrats.
President Barack Obama was expected by many to fire Shinseki in a one-on-one meeting at the White House last week; instead, Obama retained the general, who has served in the post since the start of the Obama administration.

However, a bipartisan report on the depth of the wait time problems at the Phoenix VA hospital, where the scandal started, has intensified pressure on Shinseki to go. Democrats, many of them seeking reelection in vulnerable districts, and Arizona lawmakers in particular, have been vocal about their desire for a change in leadership. Meanwhile, other lawmakers, including most congressional leaders, have expressed concern about the report, but not called for Shinseki's resignation.
RELATED: 'Congress, You're a Disgrace!' Fox Analyst Rips Political Sniping over VA
Shinseki wrote an op-ed in this morning's USA Today calling the report's findings "reprehensible" and vowing to restore integrity to the department.
Democrat Lawmakers
Senators
Mark Udall (D-CO)
Al Franken (D-MN)
John Walsh (D-MT)
Jeanne Shaheen (D-NH)
Kay Hagan (D-NC)
Martin Heinrich (D-NM)
Representatives
Ron Barber (D-AZ)
Kyrsten Sinema (D-AZ)
Scott Peters (D-CA)
Bruce Braley (D-IA)
Dave Loebsack (D-IA)
Tim Ryan (D-OH)
GOP Lawmakers
Senators
John McCain (R-AZ)
Jeff Flake (R-AZ)
Representatives
Matt Salmon (R-AZ)
Kevin McCarthy (R-CA, Majority Whip)
Buck McKeon (R-CA, Chairman, Armed Services Committee)
Jeff Miller (R-FL, Chairman of House Committee on Veterans Affairs)
Dennis Ross (R-FL)
Steve Daines (R-MT)
Phil Roe (R-TN)
Jeb Hensarling (R-TX)
Mediaite will update this post if and when more lawmakers publicly call for Shinseki to resign.
[Image via Tim Shaffer / Reuters]
——
>> Follow Evan McMurry (@evanmcmurry) on Twitter
Have a tip we should know? tips@mediaite.com