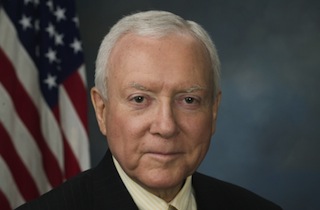 During an appearance on Salt Lake City's Doug Wright Show, Senator Orrin Hatch (R-UT) said gay marriage was "going to be the law of the land," and that anybody who thought otherwise wasn't paying attention. A district judge recently invalidated Utah's prohibition on gay marriage.

"Lets face it," Hatch said. "Anybody that does not believe that gay marriage is going to be the law of the land just hasn't been observing what's going on…The trend right now in the courts is to permit gay marriage and anybody who doesn't admit that just isn't living in the real world."
RELATED: Can Utah Thank Antonin Scalia for Helping to Overturn Its Gay Marriage Ban?
Though noting that he disagreed with the ruling of Judge Robert Shelby overturning Utah's gay marriage ban, Hatch defended Shelby as an excellent judge.
"But I think it's a portend of the future that sooner or later, gay marriage is probably going to be approved by the Supreme Court of the United States," he said. "I don't think that's the right way to go. But on the other hand I do accept whatever the courts say."
This is not to say Hatch's personal view on same-sex marriage has altered. He said that despite gay marriage's increasing legality, it would never be entirely accepted by certain portions of the populace. He also critiqued what he saw as the leftward lean of the courts, and lamented the ruling on the Defense of Marriage Act.
[h/t KSL]
[Image via screengrab]
——
>> Follow Evan McMurry (@evanmcmurry) on Twitter
Have a tip we should know? tips@mediaite.com