'A Wake Up To All Of Us': GOP Lawmaker Claims Boston Bombing Was A Government Job
'A Wake Up To All Of Us': GOP Lawmaker Claims Boston Bombing Was A Government Job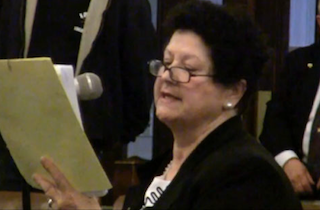 Conspiracy theories have a tendency to follow many major news events or disasters. But while we may expect them from someone like, say, Alex Jones, we generally don't from our lawmakers. Stella Tremblay is an exception. The Republican state rep from New Hampshire took to Facebook yesterday to voice her concerns about the Boston bombing being an inside job. She cited, yes, Infowars.

Tremblay posted the following message on Glenn Beck's Facebook page:
Just as you said would happen. Top Down, Bottom UP. The Boston Marathon was a Black Ops "terrorist" attack. One suspect killed, the other one will be too before they even have a chance to speak. Drones and now "terrorist" attacks by our own Government. Sad day, but a "wake up" to all of us. First there was a "suspect" then there wasnt. Infowars broke the story and they knew they had been "found out".
http://youtu.be/axQtAFtmtVA
That YouTube link directs to a video posted by Alex Jones' account, titled, "PROOF! Boston Marathon Bombing is Staged Terror Attack."
A few days later, Tremblay followed up on her original post, defending herself by citing, among other things, Benghazi and CNN's John King:
Holy COW!!! Because someone asks questions one is viciously attacked? What happened to discussion? Truly was it told: They hear with their ears, but are deaf, and they see with their eyes but they are blind. How can it be "delusional" for asking questions? There WERE military with black back packs on the last mile of the marathon. Some had detonators…is it not coincidental that they were stating there was a "drill" and not to be alarmed? Why are they seen quickly moving away from the area of the bomb just a minute before it went off? Why did Reporter King (a seasoned reporter with credible sources) announce that there was a "suspect in custody" and then hours later had to rescind the statement. Talk about credibility being shot! Why is it wrong to ask questions and demand answers? Our friends, neighbours, brothers and sisters were maimed and killed by terrorists carrying out "jihad". They were innocent victims going about doing their daily routines. This is NOT right! We need to face facts and get answers. If you think I am delusional to ask these questions, so be it. If honest answers were given…I will be satisfied. Bengazi still has not had an investigation. When do we get answers to those questions?
Tremblay reasserted her suspicions during an interview with Foster's Daily Democrat. "There's just too many things going on that, to me, doesn't make any sense," she said.
Obviously, the reactions to her comments were not positive.
"How long will it take Republican U.S. Senator Kelly Ayotte, Senate Republican Leader Jeb Bradley, and House Republican Leader Gene Chandler to condemn Representative Tremblay's vile and chilling comments?" NHDP Communications Director Harrell Kirstein said in a prepared statement. "Tremblay's post is further proof of what can only be called an epidemic of disgusting and shockingly inappropriate behavior by members of the New Hampshire Republican Party."

In response, House Minority Leader Gene Chandler wrote that Tremblay's comments are "highly offensive, egregious, and irrational."
[…]
The New Hampshire Republican State Committee characterized Tremblay's remarks as "bizarre."
Oof.
(h/t Daily Intel)
Have a tip we should know? tips@mediaite.com