Aaron Sorkin: Philip Seymour Hoffman Knew His Death Could Save Other Addicts' Lives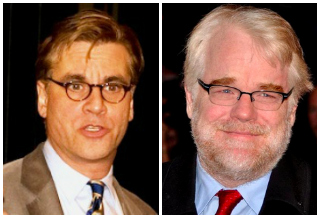 Like the late Philip Seymour Hoffman, writer Aaron Sorkin has had public and private struggles with addiction over the years. Sorkin, who wrote Moneyball and Charlie Wilson's War, a film that earned Hoffman one of his four Academy Award nominations, penned an obituary for his friend and colleague in TIME magazine that reveals the actor's own thoughts about his eventual overdose death.
Sorkin describes their Alcoholics Anonymous-like conversations during breaks in rehearsals for Charlie Wilson's War:
"I told him I felt lucky because I'm squeamish and can't handle needles. He told me to stay squeamish. And he said this: 'If one of us dies of an overdose, probably 10 people who were about to won't.' He meant that our deaths would make news and maybe scare someone clean."
But ultimately, Sorkin rejects the idea that Hoffman died from an "overdose" of heroin. "Phil Hoffman, this kind, decent, magnificent, thunderous actor, who was never outwardly 'right' for any role but who completely dominated the real estate upon which every one of his characters walked, did not die from an overdose of heroin — he died from heroin," he writes. "We should stop implying that if he'd just taken the proper amount then everything would have been fine."
Sorkin ends his piece with the hope that Hoffman's "well-earned egacy," which includes "his Willy Loman that belongs on the same shelf with Lee J. Cobb's and Dustin Hoffman's, his Jamie Tyrone, his Truman Capote and his Academy Award" also includes "10 people who were about to die who won't now."
Read the full obituary at Time.com.
And watch Hoffman brilliantly deliver some classic Sorkin dialogue in Charlie Wilson's War below (WARNING: NSFW language):
[photos via Wikimedia Commons]
— —
>> Follow Matt Wilstein (@TheMattWilstein) on Twitter
Have a tip we should know? tips@mediaite.com