Mere days after being indicted on charges of child abuse, a local news station in Texas has uncovered photos and texts that appear to show another instance of Peterson beating one of his children.
Here's one of the photos KHOU obtained, showing someone believed to be Peterson's son with a scar on his head after his father beat him: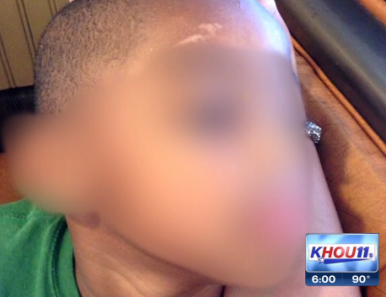 In these text messages, Peterson tells the mother of his 4-year-old that he whooped his son in the backseat of the car after he was cussing at his sister. Here's a portion of what the texts read:
Mother: "What happened to his head?"

Peterson: "Hit his head on the Carseat."

Mother: "How does that happen, he got a whoopin in the car."

Peterson: "Yep."

Mother: "Why?"

Peterson: "I felt so bad. But he did it his self."
She may have filed a report with Child Protective Services, but no charges were filed. And Peterson's lawyer issued a statement tonight saying, "The allegation of another investigation into Adrian Peterson is simply not true. The allegation is more than one year old and authorities took no action. An adult witness admittedly insists Adrian did nothing inappropriate with his son."
Peterson spoke out earlier today about the indictment, and as of this posting Peterson will be playing in next weekend's Vikings game.
You can watch KHOU's report here:
[h/t Deadspin]
[image via KHOU, featured image via Montgomery County Sheriff's Department]
— —
Follow Josh Feldman on Twitter: @feldmaniac
Have a tip we should know? tips@mediaite.com
Josh Feldman - Senior Editor