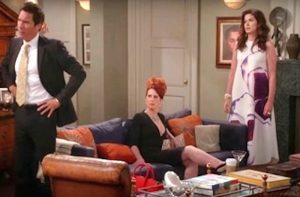 In September, the cast and crew of Will & Grace reunited to make a miniature episode that encouraged viewers to #VoteHoney! The episode was very, very clearly in favor of a Hillary Clinton presidency, which is what most would expect from the groundbreaking show that built so many Americans' understanding of what it meant to be gay in the 1990s and early 2000s.
Even in the comments section here on Mediaite, some people suggested bringing the cast back together for a season, like Full House and Gilmore Girls recently did. Good news: That looks like it might really be happening!
The Hollywood Reporter says that Eric McCormack, Debra Messing, Megan Mullally, and Sean Hayes are in talks to bring back the show for a 10-episode limited revival. (6.2 million views on an election-themed one-off will usually get a reaction like that out of executives, it's true.)
Here's one of the biggest tidbits from the Hollywood Reporter article:
It's unclear if NBC would air the revival or if the network could get outbid for what is sure to be a pricey series by a streaming giant like deep-pocketed Netflix.
The Fuller House, Gilmore Girls, Trailer Park Boys, and Arrested Development reboots were all done by Netflix. Hulu, a big Netflix competitor, did the same for The Mindy Project. The precedent is definitely there for a streaming service to snatch up the show that was once on NBC.
For their part, NBC and Universal Television declined comment for the story, so it looks like this is in the very, very early stages and it's unclear if it will happen at all.
Start preparing yourself for Karen Walker's voice again now so you're ready if and when this hits the airwaves.
[image: screengrab]
Have a tip we should know? tips@mediaite.com