Ahmadinejad Reportedly Going To Meet With With Occupy Wall Street Members (UPDATED)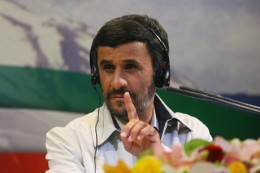 Iran President Mahmoud Ahmadinejad is reportedly meeting with members of the Occupy movement during his current New York City visit for the UN General Assembly gathering, which prompted his trip to the east coast.
According to Iranian regime official news outlet, Fars News Agency, the leader will meet with many different types of people during his stay:
"Ahmadinejad is also set to meet American university students, artists, intellectuals and elites, including Occupy Wall Street anti-capitalist protestors, despite the ongoing efforts made by the pro-Zionist lobbies to prevent direct link between American people and the Iranian president."
The same report alleges that Ahmadinejad, who spoke at NYC's Columbia University nearly four years ago to the date, will be lodging at the Warwick during his week-long visit, which commenced Saturday. More than 150 security officers will guard the Iran president while he's in the U.S. He has also reportedly agreed to interviews with networks such as CBS, CNN and Russia Today.
Ahmadinejad's most recent highly-publicized New York appearance was at Columbia, where he notoriously claimed that gays and lesbians do not exist in Iran. The comment was met with boos and laughter:
"In Iran, we don't have homosexuals like in your country. We don't have that in our country. In Iran, we do not have this phenomenon. I don't know who's told you that we have it."
We're thinking he'll leave those kind of remarks out of his Occupy meetings.
UPDATE: BuzzFeed is reporting that OWS is not, in fact, meeting with Ahmadinejad this week. Veteran occupier Shawn Carrié told the publication:
"Nobody in their right mind would meet with a fascist dictator like Ahmadenijad. I think it's been blown way out of proportion. There were some emails floating around on listservs about going to *protest* his appearance. Anyway, it must be stressed that no one speaks for OWS. Any moron can go say they're gonna go do something, but to say OWS meets with Ahmadinejad? That's just ridiculous."
—
>> Follow Laura (@LauraDonovanUA) on Twitter
h/t Weekly Standard
Have a tip we should know? [email protected]