Alabama Gov. Honors MLK By Telling Non-Christians "We're Not Brothers And Sisters"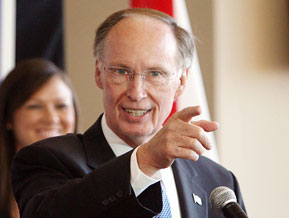 Yesterday, Alabama's Governor-Elect Robert Bentley was speaking at the Baptist church where Martin Luther King, Jr. was once pastor. Bentley told the crowd he would serve all Alabamans no matter their color or political persuasion. Then he went on to add that all Christians are his brothers and sisters…but not so much everyone else. Here's a tip: If you're at an event honoring a civil rights leader, talking about how you respect all men and women and then you're planning on starting your next sentence with the qualifier "but" or "except," you should probably stop.
Here's what Bentley actually said as described by The Birmingham News:
"'I was elected as a Republican candidate. But once I became governor … I became the governor of all the people. I intend to live up to that. I am color blind,' Bentley said in a short speech given about an hour after he took the oath of office as governor.

Then Bentley, who for years has been a deacon at First Baptist Church in Tuscaloosa, gave what sounded like an altar call.

'There may be some people here today who do not have living within them the Holy Spirit,' Bentley said. 'But if you have been adopted in God's family like I have, and like you have if you're a Christian and if you're saved, and the Holy Spirit lives within you just like the Holy Spirit lives within me, then you know what that makes? It makes you and me brothers. And it makes you and me brother and sister.'

Bentley added, 'Now I will have to say that, if we don't have the same daddy, we're not brothers and sisters. So anybody here today who has not accepted Jesus Christ as their savior, I'm telling you, you're not my brother and you're not my sister, and I want to be your brother.'"
From the text, it seems like Bentley's comments weren't at all sinister, just poorly timed (same as Michael Reagan's MLK Day essay yesterday). He's more advocating for one religion than disparaging the others. Sure, he's an elected official now and there's that whole separation of church and state, but he's a former deacon and he was in a Baptist church after all, so he deserves a pass on that. However, even implying that you hold one group of people more dear than another when you're at an event honoring a civil rights leader seems to miss the point a tad. Yes, King was a devout Christian. Yes, Bentley is a devout Christian. But this still doesn't make for a great quote.
Have a tip we should know? tips@mediaite.com