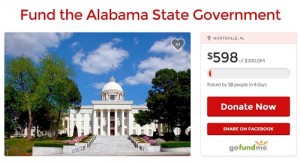 An Alabama state senator's attempt to make a political point with the popular crowdfunding website GoFundMe went about as well as we all thought it would.
Paul Sanford (R-Montgomery) created the faux fundraising campaign to "prove a point that most people do not want to pay more taxes but are for taxes when the other guy is to be taxed." However, most didn't get the joke, and we can't blame them since Sanford wasn't necessarily upfront about the page's true intentions.
When he created the page on August 6, Sanford had this to say about the GoFundMe page:
The State of Alabama is experiencing tight financial times and needs your help. Legislators are debating possible financial solutions but are finding that Raising Taxes are not wanted by the citizens of Alabama. Rather than have the Government come after your hard earned money you can now send an amount that fits your budget, even request where your money be used.

You can determine what functions of Government are a priority to you.
Hundreds of angry comments spurred dozens of responses from Sanford, who emphasized that the campaign wasn't real and was intended to make a point about taxes. Yet with a goal of $300 million, the page has raised just under $600 from a total of 38 individual donors so far.
The various reasons for these donations are hilarious. Here are some of the highlights:
"Please use this money to teach your public high school students how to safely wear and operate condoms."
"Here is 10 bucks. If there was a lottery in this state that's how much I would have spent today. Oh wait!! There is no lottery. Maybe instead of doing this, I should just mail to Tennessee!"
"From the Gay Confederate Flag Burning Society of Alabama! Please earmark for rainbow flags atop all government buildings."
"Please use this money for cab fare to your local library and check out any economics text book by Friedrich Hayek."
"My wonderful father lives in Alabama and I'm donating because I think it will bother him that I mentioned him in this comment."
"Please earmark this donation to be used for evil and nefarious deeds."
"Jet fuel can't melt steel beams."
"Regards from Iran."
"Just a friendly Canadian trying to help."
Check out a clip below, courtesy of WHNT:
[h/t WHNT]
[Image via screengrab]
— —
>> Follow Andrew Husband (@AndrewHusband) on Twitter
Have a tip we should know? [email protected]