Crash Director Paul Haggis Admits It Shouldn't Have Won 'Best Picture' Oscar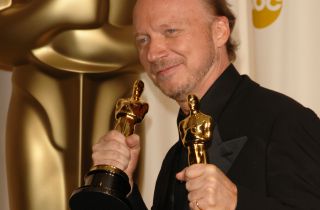 Even director Paul Haggis doesn't think his movie Crash deserved the "Best Picture" prize at the 78th Academy Awards back in 2006.
Finally! Some small justice for film fanatics who've been perennially annoyed by that bizarre victory. Sure, the Oscars are actually meaningless (as are most award ceremonies), but that year's roster of nominees was stellar. And yet this pandering slop walked away with the grand prize.

In an interview with HitFix, Haggis explained that while he's proud of Crash (sure, it's not a bad film… and it seemed revelatory to many upon release), he definitely thinks the competition was superior:
Was it the best film of the year? I don't think so. There were great films that year. Good Night and Good Luck, amazing film. Capote, terrific film. Ang Lee's Brokeback Mountain, great film. And Spielberg's Munich. I mean please, what a year. Crash for some reason affected people, it touched people. And you can't judge these films like that. I'm very glad to have those Oscars. They're lovely things. But you shouldn't ask me what the best film of the year was because I wouldn't be voting for Crash, only because I saw the artistry that was in the other films. Now however, for some reason that's the film that touched people the most that year. So I guess that's what they voted for, something that really touched them. And I'm very proud of the fact that Crash does touch you. People still come up to me more than any of my films and say, "That film just changed my life." I've heard that dozens and dozens and dozens of times. So it did its job there. I mean I knew it was the social experiment that I wanted, so I think it's a really good social experiment. Is it a great film? I don't know.
We named Crash to our list of "15 Movies That Never Should've Won the 'Best Picture' Oscar." Glad Haggis agrees!
[Image above via Shutterstock.com]
— —
>> Follow Andrew Kirell (@AndrewKirell) on Twitter
Have a tip we should know? tips@mediaite.com