Alan Colmes Grills Evangelical Leader About His 'Gay Impulses': 'I'm Not Going To Go There! Give It A Rest!'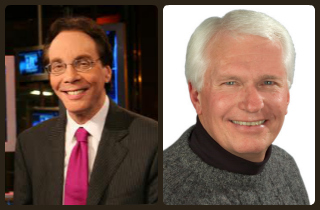 We salute Alan Colmes. Somehow he managed to snag an interview with controversial evangelical radio host Bryan Fischer, with the guest likely knowing full well a few awkward, confrontational questions would be thrown about.
While interviewing the famously anti-gay AFA radio host (yes, he is anti-gay… don't let any of his cohorts in "persecution complex" tell you otherwise), Colmes turned the logic of homosexuality-as-choice on its head by asking the question we've all wondered: Has Fischer had any of the "gay impulses" he claims mankind should simply be able to repress?
"Alan, I am not going to talk about my personal life," Fischer dismissed. "Alan, I'm not going to go there! Give it a rest, Alan. We're not going to talk about that."
"It's a simple yes or no question," Colmes pushed back. "Because maybe if you've been able to overcome your gay impulses and you've been successful in doing it, you could be a model for other people you'd like to see act the same way."
Fischer then explained that he believes that "everybody experiences sexual impulses" that would "destroy them" if acted upon. Colmes asked for an example from Fischer's own life, and once again, the AFA host balked at the question.
"You've experienced them, I've experienced them. Every man, every woman has experienced certain sexual impulses that, if they acted on them, if they conducted themselves by yielding to those impulses, it would destroy them," Fischer said, citing pro-golfer Tiger Woods' famous streak of adultery.
Recognizing the absurdity of Fischer's blanket statement about sexual impulses, Colmes responded: "I don't think I've ever had sexual impulses that would destroy the society or the culture or make me a deviant in some way."
The liberal host pressed once more: "I wonder what impulses you're talking about. If you've had them, I'd love to know what they are."
Fischer said his focus is on "sexual conduct," not on "impulse." And an unrelenting Colmes asked for a final time: "So you won't tell me whether you have, yourself, been able to overcome a gay impulse?"
"Alan, give it a rest," the evangelical fired back.
You get an "A" for effort, Colmes.
Listen below, as clipped by Right Wing Watch:
— —
>> Follow Andrew Kirell (@AndrewKirell) on Twitter
Have a tip we should know? tips@mediaite.com