Alleged 'Hot Dog Hooker' Serves Up Six-Minute Media Rant: 'I'm Sexy And I Know It'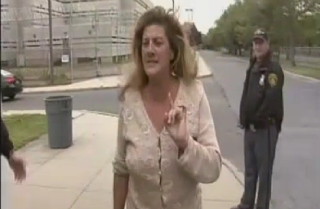 What would you like on your hot dog? Sex? Oh, okay, well then I know a place for you to go: A hot dog truck on Long Island, run by 45-year old mother Catherine Scalia. But you might have to wait: CBS New York reports that she faces jail time for selling her goods.
Police arrested Scalia last week on prostitution charges after an undercover officer claimed he patronized her hot dog truck and then went home with her for a sex act. Scalia denies she engaged in sex and said the officer only got a lap dance.
However, she pled guilty to misdemeanor prostitution charges on Tuesday, and as she left the Nassau County Jail, she gave reporters a hilarious 6-minute rant, vowing to return to her business as soon as possible.
"I'll be back out there with my bikini top on, selling my hot dogs," she declared. "I have loads of customers, everybody loves me, nobody has a problem."
"I'm sexy and I know it, everybody," she proclaimed, adding that she is not a prostitute, but simply "a stripper."
Laughing as she ranted, Scalia likened her business to indecent exposure, claiming that "indecent exposure is not prostitution," and despite her guilty plea she really just shows cleavage and performs a lap dance for a $100.
What a strange business model: selling lap dances out of a hot dog truck. Why not do it, say, out of a home or another front? Like other Long Islanders have before, you could use a foot-massage parlor or a nail salon.
She did make one sane point though. Referring to the still-at-large Long Island serial killer who killed multiple prostitutes and buried their bodies on the beach, she said, "They should find that serial killer. They're worried about a stupid stripper when they got a serial killer out there — go find that guy."
Yeah! Leave the hot dog stripper alone!
But, for the sake of comedy, let's hope for more of her rants. Like the one you can view below, via CBS New York:
Have a tip we should know? [email protected]