Amid Challenges to Voter ID Laws, KS Releases Spanish Voting Guide With Misinformation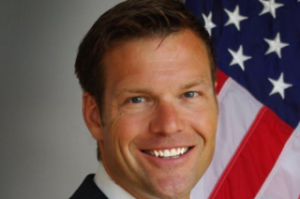 The Kansas Secretary of State is named Kris Kobach and his claims to fame are all about voting. In 2012, he was pushing hard to get President Barack Obama's name left off of the general election ballot because he didn't feel there was enough evidence of Obama's American birth.
Kansas also has voter ID restrictions in place that have reduced voter turnout by two to three percent, especially among young people and community members of color. Now, Spanish-speaking Americans may turn out less, too, thanks to a major gaffe from Kobach's staff.
According to Talking Points Memo, Kobach's office has put out a pamphlet full of information for voters, printing it in English in Spanish. The English version has no mistakes but the Spanish version has two.
The Spanish version of the pamphlet assures voters that they can register to vote up to 15 days before a primary. That's incorrect. Potential voters in Kansas can only register up until 21 days prior to the primary.
Further, the English guide reminds readers that a passport can be used as identification when voting. The Spanish-language pamphlet leaves that particular form of ID out.
Responsibility has been claimed by Craig McCullah, the official in charge of publications for the Kansas secretary of state, and while the information has been updated online and McCullah has promised to update future editions of the pamphlet, the ones reflecting the misinformation continue to circulate.
Kobach is currently facing lawsuits from the ACLU and League of Women Voters over his state's requirement of proof of citizenship in order to vote. He has referred to these organizations as "communist," telling reporters they could "quote [him] on that."
[image via screengrab]
For more from Lindsey, follow her on Twitter.
Have a tip we should know? tips@mediaite.com