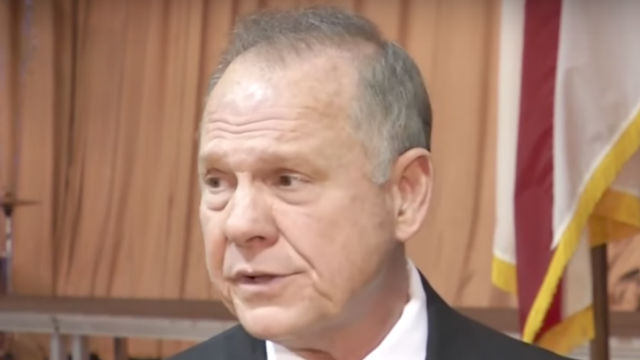 Another woman has come forward to allege that Roy Moore groped her.
AL.com's report tonight features a woman named Tina Johnson saying Moore was inappropriate with her when she was in his office:
Almost from the moment she walked in to Moore's office, Johnson said, Moore began flirting with her.

"He kept commenting on my looks, telling me how pretty I was, how nice I looked," recalled Johnson. "He was saying that my eyes were beautiful."

It made her uncomfortable. "I was thinking, can we hurry up and get out of here?"
She said she was 28 at the time, and she was in his office signing over custody of her 12-year-old to her mom.
Johnson even claims that Moore "asked questions about her young daughters, including what color eyes they had and if they were as pretty as she was."
But it was when she and her mother got up to leave that she says he groped her:
After her mother walked through the door first, she said, Moore came up behind her.

It was at that point, she recalled, he grabbed her buttocks.

"He didn't pinch it; he grabbed it," said Johnson. She was so surprised she didn't say anything. She didn't tell her mother.
And this report has an account from another woman who says she was 17 and working at a Red Lobster when Moore asked her out.
Kelly Thorp claims when she asked him if he's aware of how old she is, his response was, "Yeah. I go out with girls your age all the time."
This news report dropped tonight following a press conference in which a lawyer for Moore raised questions about the authenticity of that signature in Beverly Nelson's yearbook, demanding it be handed over for handwriting analysis.
[image via screengrab]
— —
Follow Josh Feldman on Twitter: @feldmaniac
Have a tip we should know? tips@mediaite.com
Josh Feldman - Senior Editor