Anthony Scaramucci's Twitter History Reveals Some Opinions Very Different From Trump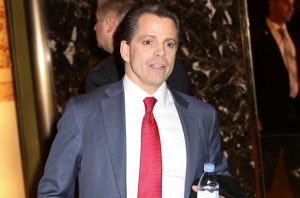 With Sean Spicer reportedly out of his job as a double-duty press secretary and communications director over conflict with President Trump regarding new communications director Anthony Scaramucci, Scaramucci is drawing all kinds of attention and controversy.
The former Wall Street financier and Scott Walker and Jeb Bush supporter may be loyal to the president, today, but Scaramucci, who once called Trump "un-American," has taken stances on a number of issues that starkly contradict Trump's, and for all his public relations expertise, Scaramucci may have trouble justifying some of the president's decisions — especially where climate change and gun control are concerned.
"You can take steps to combat climate change without crippling the economy. The fact many people still believe [climate change] is a hoax is disheartening," Scaramucci tweeted last year.
And yet, ironically enough, "hoax" is the precise word Scaramucci's new boss once used to describe global warming — and a "hoax" by China to make the United States less economically competitive, at that.
Trump recently pulled the United States out of the Paris climate accord claiming the deal would hurt the American economy by getting rid of coal jobs, and it's hard to imagine how Scaramucci could possible spin this, considering his previous comments show he's in direct disagreement with the president on this.
In another 2016 interview with FINAlternatives, Scaramucci said:
"The science of climate change is pretty much irrefutable at this point, and I find it tragic that so many people in this country believe global warming is some sort of elaborate hoax perpetuated by every credible scientist on the planet. In addition to the whole humanity angle, investing in sustainable energy makes sense from an American national security perspective."
In another tweet from 2012, Scaramucci wrote: "I have always been for stronger gun control laws."
It's a view that starkly contradicts Trump's support for eradicating gun-free zones and welcoming firearms on campuses, and when Trump inevitably opens his mouth to attack gun control in the near future, Scaramucci will be put in an uncomfortable position.
Scaramucci has also come out in support for marriage equality, which could put him in an awkward position when talking about Vice President Mike Pence. Speaking of pence, Scaramucci also identifies as pro-choice, and has criticized Trump's comments on women.
"I don't like the way he talks about women," Scaramucci said on Fox News in August 2015. Good luck to Scaramucci when Trump's next sexism gaffe rolls along, probably sooner rather than later.
In March, Scaramucci applauded attorney general Jeff Sessions' decision to recuse himself from the Russia investigation, a contentious matter that Trump hotly criticized Sessions for.
Scaramucci has also tweeted repeatedly about his opposition to the death penalty, but best of all are what he's had to say about former President Obama, whom Trump hinted wasn't born in the United States until just last year.
Scaramucci, despite being disappointed in Obama's decision to focus on health care, voted for Obama, whose legacy Trump is doing everything he can to dismantle.
"Comms is what Anthony does," a White House source told NBC. "It's how he built his business. The guy knows media. He's been a good advocate for the president."
But as much as Scaramucci "knows media," he'll likely find spinning and defending policies he finds indefensible a real challenge.
This is an opinion piece. The views expressed in this article are those of just the author.