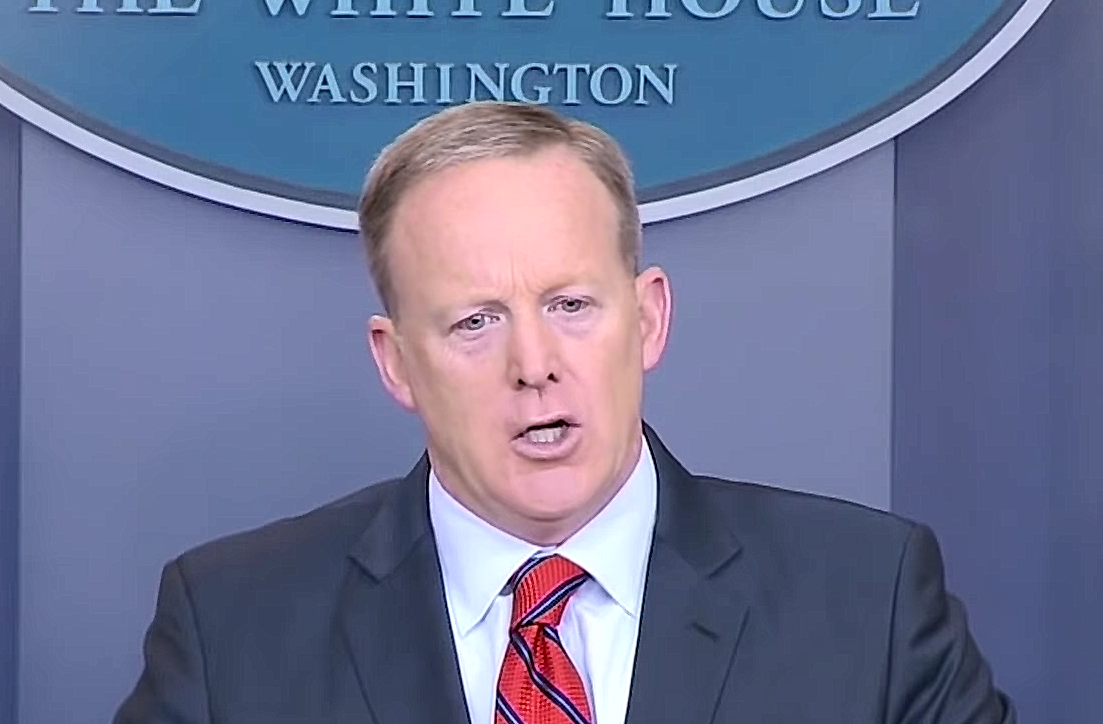 Late Friday morning, The New York Times' Glenn Thrush confirmed that Sean Spicer would be stepping down from his position as White House Press Secretary.
.@PressSec resigned after vehemently objecting to appointment at 10 a.m. Friday of Anthony Scaramucci as WH Communications director, per SAO

— Glenn Thrush (@GlennThrush) July 21, 2017
There had been speculation that Spicer's resignation was in protest of President Trump's decision to name Anthony Scaramucci as the new White House Communications Director.
According to the New York Times' report, Trump asked Spicer to stay on board but Spicer declined. The former Press Secretary reportedly strongly disagreed with Trump's choice to head White House communications as he believed the Wall Street financier lacks the experience to excel in his new role.
A short time after Spicer announced his resignation, Reuters, in a completely unprofessional and fairly disturbing, shady paparazzi-like move, set up shop outside Spicer's private home and provided a livestream for viewers to watch, according to Newsbusters.
WATCH LIVE: The scene outside Sean Spicer's house following the announcement of his resignation https://t.co/2ZsikaLPnv pic.twitter.com/0tYapl6hxs

— Reuters Politics (@ReutersPolitics) July 21, 2017
It didn't take long for reporters and others to slam Reuters for their classless decision to livestream the home of the father of two small children:
This is not newsworthy. Spicer is at the White House, not at home….and he has young kids. Don't know why Reuters would do this. pic.twitter.com/XSzYclWdGj

— Yashar Ali (@yashar) July 21, 2017
If Reuters TV is going to do this creepy live broadcast of Sean Spicer's house, could we at least get some HGTV-style commentary?

— Jim Geraghty (@jimgeraghty) July 21, 2017
Deleted last tweet because I didn't want to share Reuters livestreaming outside of Spicer's House. Because, come on.

— Jackie Kucinich (@JFKucinich) July 21, 2017
Reuters TV is running a live shot of the outside of Spicer's house. Whatta town.

— Maggie Haberman (@maggieNYT) July 21, 2017
Reminder that Sean Spicer is father of two small children and doing a live-feed of his families private residence is disgusting @Reuters pic.twitter.com/IaoTj5xhTm

— Benny (@bennyjohnson) July 21, 2017
The media, being terrible at their job. Well done, guys. It's a house. https://t.co/YGpzELdeT1

— Ben Shapiro (@benshapiro) July 21, 2017
It's like, how much more journalism could this be? and the answer is none. None more journalism.https://t.co/W5qx2zfOo9

— David Burge (@iowahawkblog) July 21, 2017
This is irresponsible. Family deserves privacy — and broadcasting their home just invites trouble. https://t.co/K8VYlSSkpM

— Mo Elleithee (@MoElleithee) July 21, 2017
Get a grip, Reuters.https://t.co/dRY7pt8m9r

— Brian Fallon (@brianefallon) July 21, 2017
[image via screengrab]
This is an opinion piece. The views expressed in this article are those of just the author.