'Arrogant Elitist': Hannity Steps Up Feud With WSJ Editor Who Called Him Fox's 'Dumbest Anchor'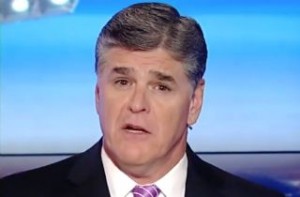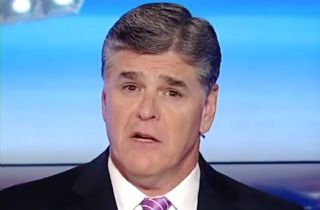 Sean Hannity's declaration that he will blame the GOP establishment for a Donald Trump loss has unearthed some tension on the right, and now we're on phase two of Hannity's feud with Wall Street Journal editor Bret Stephens.
Stephens has previously argued that while Hillary Clinton would be awful, her presidency would be "survivable," something he honestly can't say about a Trump presidency. This week, in reaction to Hannity's declarations, Stephens called him Fox's "dumbest anchor."
Hannity went on an angry Twitter tirade and declared, "If Hillary wins I will hold assholes like you accountable."
Stephens responded thusly yesterday:
Fox News's Dumbest Anchor is also its most thin-skinned. https://t.co/GslbwkiNlD

— Bret Stephens (@StephensWSJ) August 5, 2016
In response, Hannity kind of went into overdrive:
Lol. Not at all. I love kicking your ass, and showing Twitter what an arrogant, out of touch elitist you are. #fun https://t.co/8ml5gLzyIw

— Sean Hannity (@seanhannity) August 5, 2016
Instead of 23,000 Twitter fans hearing from you. I shared your ignorance with my 1.5 m and 15 m radio listeners! YW https://t.co/8ml5gLzyIw

— Sean Hannity (@seanhannity) August 5, 2016
Exclusive — Sean Hannity Bludgeons Wall Street Journal Editor Bret Stephens As 'Arrogant Elitist'

— Sean Hannity (@seanhannity) August 6, 2016
Now, as amusing as it would be to think he just put a headline on Twitter for himself, Hannity actually forgot the link to his exclusive interview with Breitbart on the matter.
He calls Stephens "a typical arrogant elitist who is incapable of understanding the plight of millions upon millions of Americans in poverty, on food stamps and out of the labor force."
RELATED: Scarborough & Hannity Can Run From their Trump Boosterism, But they Shouldn't be Allowed to Hide
Hannity's response here is very similar to how he responded to Jon Stewart recently––discrediting his opponents by accusing them of not caring about people instead of engaging on their specific criticism.
But the Breitbart piece on Hannity, as you read through it, starts to morph into something completely different. See if you can spot it:
Hannity's career transcended that of his onetime sparring partner Alan Colmes when he scored the 9 pm hour by himself in 2009. He was one of Ailes' favorite dependable anchors. As Fox News went hard in the #NeverTrump direction this election cycle, Hannity kept the pro-Trump audience from completely abandoning Fox in primetime.

Now, Hannity is defining his place in the new Republican Party, where the Drudge Report, Breitbart News, Ann Coulter, and Rush Limbaugh were placed on Conservative Movement blacklists during the darkest days of the Great Trump-Cruz War…

Hannity is making it known that he stands with the Populist Nationalist Champions of the New and Better Republican Party Borne in Cleveland That Will Reign Supreme For Years To Come.
Seriously. That's really in there.
[image via screengrab]
— —
Follow Josh Feldman on Twitter: @feldmaniac
Have a tip we should know? tips@mediaite.com
Josh Feldman - Senior Editor