As Anthony Weiner Eyes A Comeback, His Brother Recalls: 'There Was Definitely A Douchiness About Him'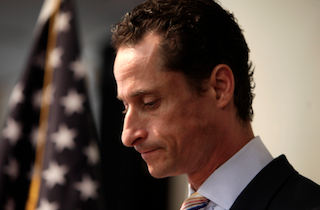 Disgraced former Congressman Anthony Weiner definitely had a "douchiness" to him, his brother Jason said (Happy National Sibling Day!) in today's lengthy New York Times Magazine piece, which chronicles the "post-scandal playbook" for Weiner and his wife, Huma Abedin. But now, his brother added, he's different.
"On Friday night, May 27, a photograph of a man's torso wearing gray boxer briefs and an obvious erection appeared on Weiner's official Twitter account," the article recalled of Weiner's scandal. That, of course, was where it all began. In relaying the lies, and the inevitable unraveling of those lies, that followed, Weiner tears up during the Times interview…
"It was brutal. It was completely out of control. There was the crime, there was the cover-up, there was harm I had done to her. And there's no one who deserved this less than Huma. That's really the bottom line. No one deserved to have a dope like me do that less than she did."
Among the others interviewed in the story are members of Weiner's family. That's where his past douchiness came in:
But nearly everyone who cares about Weiner says that pugilistic political persona long ago bled into his personal life and made him "hard to take," as his brother Jason puts it. "I wouldn't stand for other people saying this about him, but there was definitely a douchiness about him that I just don't really see anymore."
Underlining the new-and-improved Anthony Weiner, Jason added, "No one has been harder on him than he has been on himself" — a quality he deemed "refreshing."
Elsewhere in the piece, Weiner touches upon his political comeback, straightforwardly stating he is eyeing a mayoral run in New York City."My brother's like, 'Dude, you'd be great if you ran, you'd be a great mayor or something, but don't do it if it's going to screw you up again,'" he said.
Read the full article here.
Have a tip we should know? tips@mediaite.com