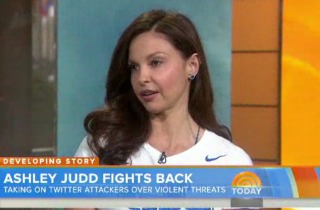 Actress Ashley Judd has been under fire from Internet trolls for her support of the Kentucky Wildcats in this year's NCAA college basketball tournament. On Twitter and elsewhere, users have been hurling threats of sexual violence against Judd. In response, Judd promised to press charges.
"The way things happen on social media is so abusive. Everyone needs to take personal responsibility for what they write and not allow this misinterpretation and shaming culture on social media to persist," Judd said on the TODAY Show. "And by the way, I'm pressing charges."
In response to the harassment she has received online, Judd penned an essay in Mic in which she addressed what she views as the "ripe dangers" women face when they express an opinion about sports.
"I routinely cope with tweets that sexualize, objectify, insult, degrade and even physically threaten me," Judd wrote. "I have already — recently, in fact — looked into what is legally actionable in light of such abuse, and have supplied Twitter with scores of reports about the horrifying content on its platform. But this particular tsunami of gender-based violence and misogyny flooding my Twitter feed was overwhelming."
As The Hollywood Reporter recounts, Judd faced even more backlash on Twitter over her Mic essay. In addition, after sharing the essay on Facebook, users took to the comments section to further berate her.
Judd was once flirted with the idea of a U.S. Senate bid to challenge current Senate Majority Leader Mitch McConnell(R-KY).
Legal experts have weighed in on how the tweets can be punishable under the law. You can watch that discussion below, via Fox News:
[Image via screengrab]
— —
>>Follow Andrew Desiderio (@forza_desiderio) on Twitter
Have a tip we should know? tips@mediaite.com