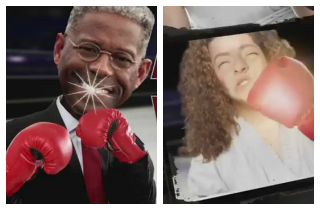 It's that time of an election year again: attack ads fill the airwaves, further alienating decent people from the political system, or conversely, uniting people in their hatred of an opposing candidate — take your pick. This latest doozy comes from the American Sunrise PAC in support of Florida Democratic congressional candidate Patrick Murphy who looks to unseat the controversial Republican incumbent Allen West.
In the thirty-second-long TV spot, West is cartoonishly depicted as a boxer punching a variety of women, stealing their money, and cackling as he goes.
"West has socked it to seniors," the narrator says as cartoon West punches a granny in slow-motion, "voting to end Medicare as we know it."
"He's whacked women with his votes for huge cuts in women's health-care funding," she continues as West punches a young lady in the face and she yelps.
"And he's mauled middle class families," she says as West pockets a wad of cash from a family of four, laughing maniacally like a cartoon villain (it sounds like Wario from the Super Mario video game series, right?).
The Blaze notes that some critics have found racial undertones in the ad, notably a Shark Tank blogger who wrote that:
"The ad slyly uses a caricature of West and portrays him as a bully who hits women- more specifically, a white women- while he grabs money away from a "middle class" family that just happens to be a black family."
Let's not go there, folks. The ad is not racist, but it is boneheaded. Political ad-makers should know by now that the depiction of violence against women, however well-intended you may feel inside, is pretty unwelcome in mainstream politics. You may elicit a few cheers from those who absolutely cannot stand Rep. West, but you'll likely leave a sour taste in most other mouths.
Besides, there are probably easier ways to attack Allen West. Just mention his bizarre claim that 80 people in Congress are avowed communists, or the various iterations of his unhinged Shariah law panic, or perhaps a list of his more unsavory remarks (oh, wait, you already did that? Why this attack ad then?) — you know, actual campaigning that doesn't involve women being punched.
Watch the full ad below from StopAllenWest:

[h/t The Blaze]
— —
>> Follow Andrew Kirell (@AndrewKirell) on Twitter
Have a tip we should know? [email protected]