Ben Carson on Baltimore: You Wouldn't Riot Against a Bad Plumber, Would You?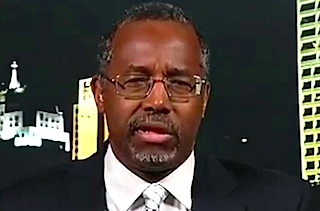 Dr. Ben Carson spent 36 years living and working in Baltimore, and the potential Republican presidential candidate says in his experience the "vast majority" of police officers there are "wonderful, very fine people."
Carson made those comments in an interview with GQ's Jason Zengerle on Tuesday in reaction to the riots that have occurred in Baltimore following the death of Freddie Gray while in police custody. He added that he never had any "bad experiences" with the police there.
"I recognize that people are angry because they feel that they're not getting a full explanation of what occurred under suspicious circumstances, but I can speak from experience that reacting out of anger seldom leads to anything helpful," Carson said. "And these kinds of reactions will only increase the antagonism between police and communities throughout the country and result in militarization and more aggression."
Later, he used an analogy regarding plumbers to criticize the actions of those who have turned to violence. "If you have an unpleasant experience with a plumber, do you go out and declare a war on all plumbers?" he asked. "Or teachers or doctors? Of course not. And it makes no sense to do that with police either."
Discussing the Eric Garner case, Carson said he did not see anything inherently wrong with the grand jury's decision not to indict the officers who killed him using a chokehold, despite the presence of video evidence.
"Some people say whether it was accidental or not, it certainly appears that it was accidental, but whether it was or not, heads should roll, and that's the way some people feel," Carson said. "And I understand that feeling. But at some point we have to be objective."
Earlier in the day, Carson posted the below statement on his Facebook page, urging "parents, grandparents and guardians to please take control of your children and do not allow them to be exposed to the dangers of uncontrolled agitators on the streets."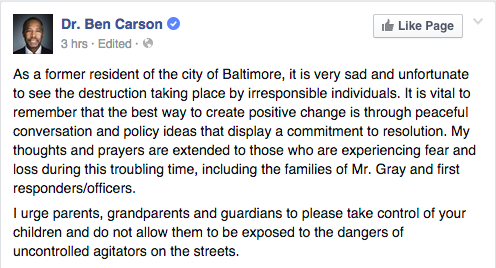 [Photo via screengrab]
— —
>> Follow Matt Wilstein (@TheMattWilstein) on Twitter
Have a tip we should know? tips@mediaite.com