Moonwalk for Peace: Meet the Man Who Wants to Save Baltimore with Power of Michael Jackson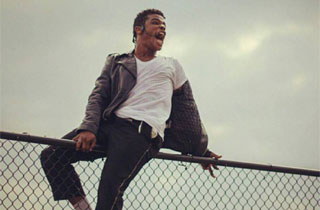 When Dimitri Reeves drove into the heart of Baltimore on Monday, mere blocks away from that looted CVS Wolf Blitzer kept obsessing over, and performed a medley of Michael Jackson's biggest hits, he had plenty of experience. It's actually his job to perform MJ tunes at busy intersections: he travels around the country, sets up some really loud speakers in a yellow truck, and dances on street corners for money. Part of the money goes into his own burgeoning career as a singer and dancer; the rest helps pay for his parents' dialysis.
For more than two hours, he moonwalked on top of a truck, turning what could have been a ransacked intersection into a peaceful party. What he didn't expect was to go viral for it.
We spoke to Reeves today via telephone, who told us why he'd set up his one-man party, and what his plans were for the near future.
—
I take it that you're the guy whose Michael Jackson videos are going nuts right now on the internet?
Yeah, I'm actually surprised about that. I am him. (laughs)
Your online bio says that you're a musician, but you also do Michael Jackson impersonations?
Right, I'm a Michael Jackson tribute artist. I was born and raised in St. Mary's County, Maryland. I used to dance to Michael Jackson all the time when I was a kid, then I grew out of it and wanted to be a wrestler. All of a sudden, when Michael Jackson died, I studied him, and when I studied him, I went to a talent show, and it was supposed to be a one-time thing, but I kept doing it.
My manager, Vaughan Mason, he saw me at a talent show — he made the single "Bounce, Rock, Skate, Roll" — and he took me under his wing and groomed me with my vocals, my dancing and everything. He was like, "Let's go onto the streets and perform." This was three years ago, mind you. I'm like, "You're crazy! I don't want to go out to the streets and perform! I want the lights and the stage and smoke and the pyro[technics]!" He just said, "You know what? You can just go on the street corner and do that crap." I trusted him, and he guided me well, and here I am today.
So taking you back to yesterday — What happened yesterday is, we saw what was going on, and and we do this all the time, so we thought, "What better time to do this?"…We were right down the street from the CVS, and it was just destroyed. And when it was going on, I wanted to show some positivity to the area, like what James Brown did in Boston [after the death of Martin Luther King]. I wanted to do that because, like, all this flipping cars and lighting things on fire — it's like, you get mad and me, and then you're going home and breaking something in your house, because you're getting mad at me. It made me so sick.
…We didn't put a tip out, we just performed! People were trying to hand us money and stuff, and I said no. We're just doing this out of the kindness of our hearts, because there's a lot of stuff going on.
I saw one report that said you literally stopped a bunch of people from looting by starting this massive dance party.
[laughs] Yeah! They were coming down and they were hype, I guess. And then people saw men and were like, "what's going on?" and they heard the music. I did "Will You Be There," "You Are Not Alone," "Man in the Mirror," "Beat It." Most people thought I was trying be funny, but I wasn't trying to be funny at all. That wasn't my mindset at all. I just wanted to take people's minds off of what was going on in that area. We were right in the middle of it. On one side there was a fire. On the other side was a police force with riot shields and every thing. Oh, god.
It seemed like you were out there for a really long time.
Oh my god, we were out there for at least two and a half hours.
Dang…
That's a short day for us. Normally we're out for five to seven hours, but we go to different spots in different areas. But that was a good spot to do it in, because everyone kind of merged in that area.
Do you plan on going out again today?
Oh yes, that's a definite. I'm putting on my Superman cape and flying out there. [laughs] Don't know what area yet, but we're definitely heading out today.
Do you have any final message you want to give people before you go out and dance again today?
[pause] Think. It's as simple as that. My message to people is just to think before you react. We're just so quick to react that — just think about what we're doing here. That's the only thing I can say: just think.
—
Watch a video of Reeves in Baltimore below:
Michael Jackson question. Many ask where MJ music was coming from during protest. Answer. VIDEO #BaltimoreRiots pic.twitter.com/0z5yZGfXbN

— Shomari Stone (@shomaristone) April 28, 2015
[This interview has been edited for clarity and length.]
[Image via Dimitri Reeves]
— —
>> Follow Tina Nguyen (@Tina_Nguyen) on Twitter
Have a tip we should know? tips@mediaite.com