Ben Carson Reportedly Mused About How America Could End Up Like 'The Purge All the Time'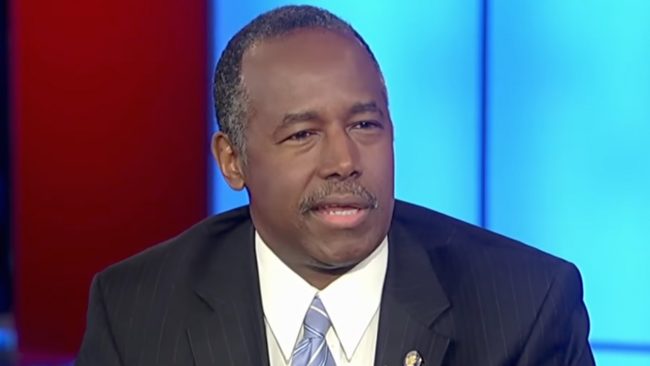 HUD Secretary Ben Carson is apparently a fascinating guest to have at dinner parties, as he spent a recent Washington, D.C. gathering explaining how the US Capitol could descend into "lawlessness and anarchy" — exactly like in the horror film The Purge. 
The Trump administration official shared his thoughts on the matter with Deana Bass, his chief of staff, as per the Washington Post, he launched into a Heath Ledger's Joker-esque monologue at a D.C. Christmas party about how a North Korean nuclear strike could lead America into chaos and madness:
"Did you know," the secretary of housing and urban development asked his acting chief of staff, Deana Bass, at a Capitol Hill holiday party, "that if North Korea detonated a nuclear weapon into our exosphere, it could take out our entire electrical grid?"

Bass shook her head.

"What's that movie where there's complete lawlessness and anarchy for one night a year?" Carson said, calmly resting his right hand over his left. " 'The Purge'! It will be like 'The Purge' all the time."
While Carson — with his put-you-to-sleep personality — doesn't give off the impression that he's a fan of dystopian horror films, that might be for the best, as the movie is actually about a radical shift in America's ruling political party (sound familiar?) which leads the country into a golden age of low crime, high employment rates, and a booming economy by instituting the one-night of anarchy rule. Of course, if The Purge was real, Carson would be safe per the rules of the film given his status as a high ranking official.
However, normal Americans wouldn't be so lucky, so let's hope he doesn't get anymore bright ideas from the movie.
[images via screengrab]
Follow the author on Twitter (@calebecarma).
Have a tip we should know? tips@mediaite.com