'Better Me Than A Child': Woman Hailed As Hero Describes Confronting Knife-Wielding London Attackers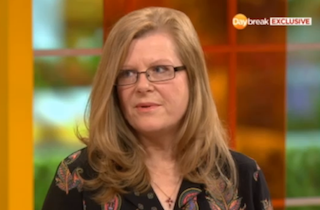 After yesterday's murder in London, which is being treated as a terror attack, Ingrid Loyau-Kennett has been hailed a hero. The 48-year-old mother of two and Scout leader confronted one of the one-wielding suspects and spoke to him about what he'd done and why. In the moment, Loyau-Kennett said she wasn't scared. "Better me than a child," she said.
Loyau-Kennett said was on a bus in Woolwich and got off to see if there was anything she could do to help. She described the suspect as "very excited," noting that he had a revolver in one hand and a cleaver in the other. Observing that he didn't appear to be on drugs, Loyau-Kennett said she felt she could try to talk to him.
"I spoke to him for more than five minutes," she told the Guardian. "I asked him why he had done what he had done. He said he had killed the man because he [the victim] was a British soldier who killed Muslim women and children in Iraq and Afghanistan. He was furious about the British army being over there."
RELATED: Bloodied London Attacker Speaks To Camera After Beheading: 'You People Will Never Be Safe'
Asked what he was going to do next, "he said it was a war and if the police were coming, he was going to kill them." The other suspect, she said, was quieter and more reserved.
In an interview with British channel ITV's Daybreak, Loyau-Kennett said she wasn't scared, replying simply, "Better me than a child."
"I am just happy that I managed to do something that might have prevented more trouble," she said. "I feel fine at the moment but I suppose the shock could hit me later."
Watch the ITV interview below:

Have a tip we should know? tips@mediaite.com