Bill Maher's Christmas Eve 'Jesus F**ked Tim Tebow' 'Satan Is Tebowing' Tweet Stirs Outrage
Bill Maher's 'Jesus F**ked Tim Tebow' 'Satan Is Tebowing' Tweet Stirs Outrage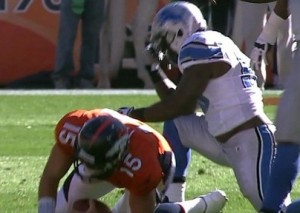 Stand-up comic and quasi-political commentator Bill Maher flexed some of his favorite comedic muscles in a Christmas Eve tweet that had it all: profanity, shock value, and Maher's trademark blasphemy. Referring to the Denver Broncos' crushing loss to the Buffalo Bills, Maher tweeted, "Wow, Jesus just fucked #TimTebow bad! And on Xmas Eve! Somewhere in hell Satan is tebowing, saying to Hitler 'Hey, Buffalo's killing them'"
According to The Blaze, there's a predictable amount of outrage over this, but stripped of its shock value, Maher's tweet is just a variation on a sharp, if well-worn, comedic criticism of athletes' tendency toward ostentatious religious displays.
Although Maher is prone to mocking religion, in this case, his essential complaint ought to resonate with some believers, as well. When athletes credit God for their victories, many a comic has asked, does that mean He abandons them in moments of defeat? Are their opponents minions of Satan when they lose? My favorite is from Jeff Stilson:
I don't watch football anymore, I gave that up. I got tired of the interviews after the games, because the winning players always give credit to God, and the losers blame themselves. You know, just once I'd like to hear a player say, 'Yeah, we were in the game, until Jesus made me fumble. He hates our team.'
In fact, growing up in a fundamentalist Christian church, many of my elders expressed dismay at such displays, as they conflate heavenly faith with earthly reward, and can appear as prideful attempts to glorify the athlete's piety, rather than God. Granted, none of them would have expressed this in the blunt fashion that Maher did, but anyone who is outraged by the shock window-dressing obviously hasn't watched five minutes of Real Time.
Ironically, Fox's Eric Bolling expressed his disapproval in the most Christian way imaginable(?): by wishing eternal torment and damnation on Maher:
Bill Maher is disgusting vile trash. I can't even repeat what he just tweeted about Tebow..on Christmas Eve. #straighttohellBill
Kinda makes you wonder how Bolling would have reacted to this 2010 tweet from the Buffalo Bills' Steve Johnson:
I PRAISE YOU 24/7!!!!!! AND THIS HOW YOU DO ME!!!!! YOU EXPECT ME TO LEARN FROM THIS??? HOW???!!! ILL NEVER FORGET THIS!! EVER!!! THX THO…
Have a tip we should know? tips@mediaite.com