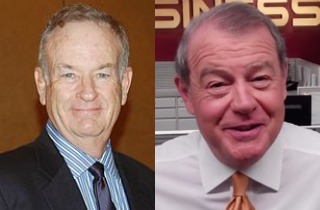 Bill O'Reilly excitedly teased viewers throughout his Friday night broadcast with a new segment featuring Fox Business host Stuart Varney, and the inaugural "Varney's Villians" did not disappoint.
After identifying Varney as "a rising star" in the Fox networks, O'Reilly welcomed Varney to discuss this week's main villain: the liberal website Media Matters founded by David Brock. Varney led in with a conversation about the tax-exempt status of the website, which O'Reilly identified as "harming conservatives".
Varney proceeded to present the official form that a United States citizen could fill out in order to submit a complaint about Media Matters. The 13909 Complaint Form could be used to send to the IRS and voice your opinion, which in this case, was given to viewers when O'Reilly asserted, "[Media Matters] is a hate-filled propaganda machine".
When O'Reilly seemed disappointed at the simplicity behind a complaint, he pushed Varney on possible litigious actions that someone could take in outrage. Varney indicated that suing the IRS or the tax-exempt Media Matters was not realistic.
O'Reilly continued, "I think there might be some legal action, we'll look into it." We will keep our eyes on O'Reilly next week for possible updates as to how you can presumably sue Media Matters and will adjust this post accordingly.
Neither Varney nor O'Reilly mentioned the longtime Media Matters segment "War on Fox", which was a driving force of criticism against Fox since 2010. The Executive Vice President of Media Matters said of their opinion of the feud, "[We] effectively discredited the network's desire to be seen as 'fair and balanced'".
[image vis Wikipedia Commons]
—
>> Follow J.D. Durkin (@MediaiteJD) on Twitter
Have a tip we should know? tips@mediaite.com