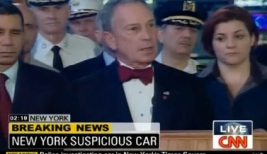 Mayor Bloomberg held a press conference at 2am this morning to address last night's bomb scare in Times Sq. Dressed in a bow tie and tux –he'd apparently been whisked away from some event [the WHCD?] by the scare — he was joined at the podium by Gov. Paterson and City Speaker Christine Quinn. Said Bloomberg: "We are very lucky. Thanks to alert New Yorkers and professional police officers we avoided what could have been a very deadly event." No kidding.
Here's what we know so far about the attempted bombing from this morning's New York Times.
At 6:28 p.m., Mr. Kelly said, a video surveillance camera recorded what was believed to be the dark green Nissan S.U.V. driving west on 45th Street. Moments later, a T-shirt vendor [who, according to Bloomberg is a Vietman veteran] on the sidewalk saw smoke coming out of vents near the back seat of the S.U.V., which was now parked awkwardly at the curb with its engine running and its hazard lights on.
That t-shirt vendor notified Officer Rhatigan of the mounted police and his horse Miggs, who then investigated and called in members of the NYPD's bomb squad.
Members of the Police Department's bomb squad donned protective gear, broke the Pathfinder's back windows and sent in a "robotic device" to "observe" it, said Deputy Commissioner Paul J. Browne, the police department's chief spokesman. Inside, they discovered three canisters of propane like those used for barbecue grills, two five-gallon cans of gasoline, consumer-grade fireworks — the apparent source of the "pops" — and two clocks with batteries, the mayor said. He said the device "looked amateurish."

Mr. Browne said: "It appeared it was in the process of detonating, but it malfunctioned."
Maybe somewhat comforting to note that if the bomb had gone off the result would have been "more of an incendiary event." At this point, says the Mayor, "we have no idea who did this or why." Obviously, they are investigating. Video of the presser below. Last word goes to the vendor, who apparently has little use for the press: "See something, say something." Lesson? Be nice to your vendors, they may end up saving your life.
Have a tip we should know? tips@mediaite.com