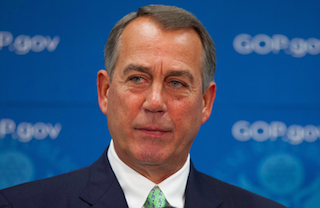 House Speaker John Boehner (R-OH) has issued a sharply worded statement in response to a swift veto from President Barack Obama of a bill, passed by both the House and Senate, that would have rushed the Keystone XL Pipeline into production.
"The president's veto of the Keystone jobs bill is a national embarrassment," Boehner said on Tuesday. "It's embarrassing when Russia and China are plowing ahead on two massive pipelines and we can't get this one no-brainer of a project off the ground."
He added, "The president is just too close to environmental extremists to stand up for America's workers. He's too invested in left-fringe politics to do what presidents are called on to do, and that's put the national interest first."
The decision to block the legislation, approved by mostly Republicans and a few Democrats, is the first major veto from Obama during his six years in office. In a message to Congress, Obama said, "because this act of Congress conflicts with established executive branch procedures and cuts short thorough consideration of issues that could bear on our national interest — including our security, safety, and environment — it has earned my veto."
Last month, White House Press Secretary Josh Earnest confirmed Obama's plans to veto the bill, saying it has not been fully evaluated by the State Department. The president could still decide to move forward with the project at a later date.
[Photo via House.gov]
— —
>> Follow Matt Wilstein (@TheMattWilstein) on Twitter
Have a tip we should know? tips@mediaite.com